Minority Report Technology Surfaces at Consumer Electronics Show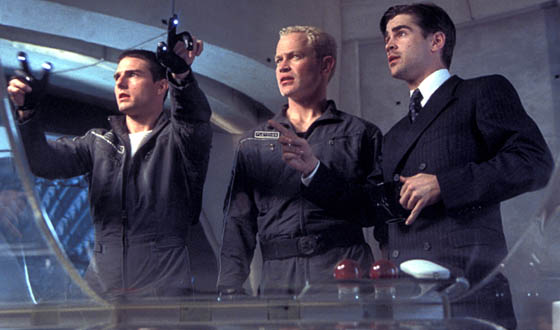 <img src="http://dev.blogs.amctv.com/wp-content/uploads/2010/01/Minority-Report-560.jpg" alt="" title="Minority Report Technology Surfaces at Consumer Electronics Show" width="560″/>

The Consumer Electronics Show in Las Vegas is a great place to see technology that was once relegated to the realm of science fiction. This year's show, which ended Sunday and had more than 2,500 exhibitors showing off 20,000 new products, did not disappoint. Nothing doing with flying cars, but if you've been longing to interface like Tom Cruise does in Minority Report this could be your year. Here's some new tech scifi movie fans can get excited about
Samsung's 14-inch transparent OLED laptop


H.G. Wells didn't have to explain why he made the flat panel displays transparent in 1936's Things to Come; nor does The Prisoner's Two, and he runs a whole Village via his see-through laptop. Samsung therefore needs no explanation as to why they're now in the transparent OLED biz. So what if you don't need to see through the screen on your laptop. The point is that you can. It's cool and it's coming. The 14-inch prototype is being touted as the world's first and largest transparent OLED.
The Saygus Vphone


Why haven't videophones taken off in reality the way they have in the movies? Because no one's found a way to make the technology efficient and affordable. Until now, that is. The Saygus Vphone, currently in carrier testing, promises the ability to make true two-way video calls even on an EDGE network. "We have designed our own proprietary video calling software that's optimized so you can get three to four hours of video calling capability on extremely low bandwidths," says Chad Sayers, founder and CEO of Saygus. It may not work from Space Station 5, but it could get things going here on Earth.
3D Movies, 3D TVs and Panasonic's 1080p twin-lens P2 3D camcorder

When Marty McFly happens upon the holographic marquee for Jaws 19 in 3D in Back to the Future Part II it's meant to be a joke, suggesting the never-ending franchise would get even more gimmicky in the future. But after the success of Avatar, it's more prophetic than pathetic. Experts like David Werheimer, director of USC's entertainment technology centre now predict that 3D will "quickly become the new norm… It's no longer a gimmick, but an expectation." The only difference now is that if there is a 3D Jaws sequel, McFly probably won't say the shark, "still looks fake."

How will you watch movies made this way at home? On your 3D TV, of course. Sony and LG both revealed sets at CES that will go on sale this summer, though you'll still need to wear glasses for them to work. But Chinese company TCL showed off 3D TV technology that doesn't have that problem. "Basically, we put the glasses that you'd be wearing on the TV," said a TCL spokeswoman. If that's not enough, you can make your own Avatar-inspired movies with Panasonic's new 3D camcorder — serious fanboys can pre-order it for just $21,000.
PrimeSense's motion-sensing interface


Tom Cruise doesn't have to touch his screen to work in Minority Report. Why should you? Plenty of companies at this year's CES are working on interface technology that will keep your screen free of fingerprints. Israeli company PrimeSense says they've created an interface that's faster and more accurate than anything previously attempted, plus it's operational in near darkness. To activate it you thrust your palm out toward the screen, at which point it locks on to you and puts you in control — now all you need are the precogs (sold separately, natch) to stream future crimes to your screen.
Hopefully, when it comes to these far-out electronics, what happens in Vegas won't stay in Vegas.
Read More