Mick Jagger in Spurs Is Just the Beginning… Yeehaw!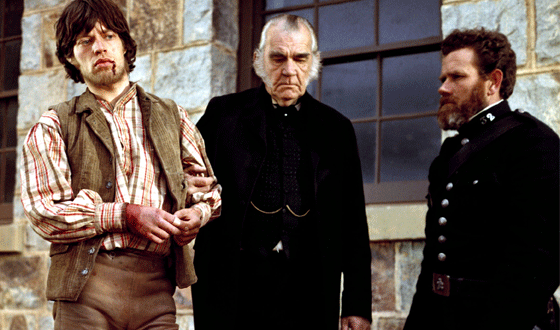 When musicians become actors, it's always a risky proposition! The Western has certainly attracted its share of rock-and-rollers, country singers, and teen idols. And why not? There's a long tradition of singing cowboys, such as Roy Rogers. Nevertheless, some musicians seem more at home on the saddle than others. How did some of these crossovers work out? Read on!
Dwight Yoakam, South of Heaven, West of Hell (2000)
The warning signs of a vanity project are all here: Gargantuan running time (133 minutes); stunt-casting (Peter Fonda, Vince Vaughn, Billy Bob Thornton, and, yes, Pee-Wee Herman). And of course multiple credits under one name… Written, directed, scored by and starring Dwight Yoakam, this revisionist Western is ambitious enough as it explores the darker side of the frontier terrain. Unfortunately, the title is pretty representative of the viewing experience.
Jewel, Ride with the Devil (1999)
Jewel had the good sense to appear in a movie shot by a fine director (Ang Lee) and to accept a supporting part rather than tackle a lead role. But though she's perfectly fine as a Civil War widow, it was one of the the Alaskan singer's last times on the big screen. After all, who needs her when you have look-alike Renee Zellweger? (Or Joey Lauren Adams for that matter?)
Iggy Pop, Dead Man (1995)
Weird musicians always pop up in Jim Jarmusch's movies: Tom Waits. Jon Lurie. In his cult Western Dead Man, Iggy Pop makes a memorable walk-on role as a psychotic, dress-wearing fur-trapper, "Sally" Jenko. Marlon Brando, eat your heart out.
Willie Nelson, Barbarosa (1982)
Willie Nelson and Gary Busey! What more could you want? You might be surprised to know that Busey's a musician as well: He started out as the drummer, singer, and songwriter for the one-album rock outfit Carp before turning to acting. Meanwhile, Nelson's soft-spoken delivery works here to perfect effect in this understated border Western.
Kenny Rogers, The Gambler (1980)
Country music is pretty cinematic: People live, die, cheat, drink beer, cry, drink some more beer. Naturally, Kenny Rogers' music lends itself to the genre. His song "The Gambler" was certainly ripe for a movie adaptation. And just like the song, the movie is silly and fun. But it doesn't hold a pair of sixes to the Muppets' dramatization of the song.
Kris Kristofferson and Bob Dylan, Pat Garrett and Billy the Kid (1973)
As a country musician who eschews the conventions of
Nashville, Kristofferson does well to this shaggy, countercultural take on
Billy the Kid. What's more, Kristofferson has a comfortable charisma before the camera that most actors would kill for. Such gifts can't really be said of the other acclaimed songwriter who appears in this Western — one Bob Dylan. Watching his performance as "Alias," Dylan probably wished he could have been credited under one.
Mick Jagger, Ned Kelly (1970)
Jagger takes the lead as famed Australian bushranger Ned Kelly. While the rocker was pretty decent in Nick Roeg's cult favorite Performance, he was pretty much playing himself. Perhaps he should have stuck with that: He doesn't bother to be very Australian in this flick, and while he doesn't ruin the movie, he doesn't add much to the role. If you want to see Mick in a countrified mood, you're better off listening to "Honky Tonk Women."
Elvis Presley, Charro! (1969)
Elvis as you've never seen him before: With a beard! Alas, his performance is similarly scruffy — it seems like the King of Rock just rolled off the couch and stuffed a handful of pills into his mouth before filming his scenes. With nary a musical number, Charro! is an interesting late-period curiosity, with Presley trying his best to play a morose anti-hero a la A Fistful of Dollars.
Glen Campbell, True Grit (1969)
The country crooner tested out his acting chops by pairing off with John Wayne in this classic. Campbell gives a serviceable performance as a headstrong
Texas ranger by the name of La Boeuf. Campbell doesn't belt out any tunes during the picture, but he does supply the movie's rousing theme song. And anyone who can fit the awkward words "true grit" into a tender ballad deserves at least a little credit for his efforts.
Ricky Nelson, Rio Bravo (1959)
Ricky Nelson actually started off as an actor — albeit playing himself at age eight on The Adventures of Ozzie and Harriet. But by the time he made Rio Bravo, he was better known as a rock 'n roll singer, belting "Be-Bop Baby" to writhing girls in poodle skirts. So casting Nelson as a hot young gunslinger in Rio Bravo made perfect sense, and he was in good company, acting alongside Dean Martin and dueting with the Rat Packer on "My Rifle, My Pony and Me."

Read More