Mary Robinette Kowal – Stop Motion's Pioneers Make Fantasy History One Frame at a Time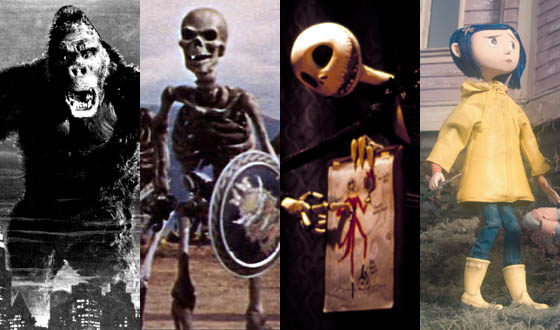 In many ways, you could say that stop motion animation was invented to create fantasy flicks. Certainly, it's been linked to fantasy for most of its history because for decades, if you wanted a monster or supernatural creature, it was the only recourse. With the advent of CGI, stop motion's role is changing, but it retains a strong connection to the genre. Let's take a look at some of the pioneers of stop motion.
Albert E. Smith and J. Stuart Blackton
The Humpty Dumpty Circus (1898) is the earliest recorded instance of stop motion. Although there is no surviving footage, the movie features a toy circus complete with acrobats and animals as they come to life. (That's right: Toy Story is as old as the 1800s.) Varying sources disagree on the details, but it's clear that one of the two men manipulated his daughter's toy circus while advancing the film one frame at a time. And thus, an art form was born.
Wladyslaw Starewicz
In 1910, the director of the Museum of Natural History in Kaunus, Lithuania had a serious problem: He needed to film stag beetles fighting, but the nocturnal bugs went to sleep whenever the studio lights came on. So he took the exoskeletons and put them over armature wire, creating the first stop motion puppets. His short movie Lucanus Cervus (1910) was so successful, he went on to create a fairy tale performed entirely with bugs, The Beautiful Lukanida, regarded as the first stop motion movie performed with puppets. So CGI flicks like A Bug's Life owe their ancestry to this turn-of-the-century insect voyeur.
Willis O'Brien
O'Brien started his stop motion career with clay figures like in Dinosaur and the Missing Link (1915) — a short about the romantic tribulations of a caveman — which led directly to him being hired to create the creatures for The Lost World (1925). By this point, O'Brien had pioneered the technique of using rubber skins over metal armature. He continued refining his technique and created one of the most famous of all stop motion creatures, King Kong, in 1933. Here the beast's fur is constantly in motion from the animators touching him — a hurdle that kept stop motion from tackling hairy beasts for years to come.
Ray Harryhausen
One of O'Brien's assistants was Ray Harryhausen, who took the concept of stop motion and ran with it, focusing on making the animation a seamless part of the entire movie. To that end he provided special effects in fantasy flicks ranging from 1958's The 7th Voyage of Sinbad (his first color feature flick) to Clash of the Titans (1981). His fight scene in Jason and the Argonauts (1963) between seven animated skeletons and three live actors is credited with inspiring a whole generation of filmmakers like Steven Spielberg, Tim Burton and James Cameron.
Will Vinton
Did you know that the word "claymation" is a registered trademark? Yep, Will Vinton, best known for the California Raisins, refined clay animation into a distinct enough form that he registered the term as a way to distinguish what he was doing from other clay animators. At its heart though, this is still clay over armature. One of the most striking uses of his sculpted clay work occurs in Return to Oz (1985), in which the Nome King is represented by an uncanny mix of claymation and live action.
Aardman Studios
Started in 1975 by Peter Lord and David Sproxton, Aardman is part of a growing movement to use the limitations of stop motion as a stylistic choice. Their feature length movie Chicken Run (2000) really brought clay animation back to the table as a vibrant filmmaking technique, which can be seen more recently in movies like Wallace & Gromit in The Curse of the Were-Rabbit (2005). Their movies all have a distinctive look centering around the replaceable features on their puppets' faces.
Henry Selick
Also celebrating the visual aesthetic of stop motion, Henry Selick has directed visual classics like The Nightmare Before Christmas (1993), the first full-length, stop motion feature from a major American studio, James and the Giant Peach, and Coraline. With Coraline, he teamed with LAIKA to bring us the first 3D stop motion animated flick. While CGI movies like Avatar might mean the end of stop motion as a special effect, others like Fantastic Mr. Fox show us that stop motion as an artistic choice is still a vibrant form.
Who is your favorite master of stop motion animation?

Mary Robinette Kowal is the winner of the 2008 John W. Campbell Award for Best New Writer and a professional puppeteer. Her first novel, Shades of Milk and Honey, is being published by Tor in 2010.
Read More