Mary Robinette Kowal – The Top Ten Fantasy Duels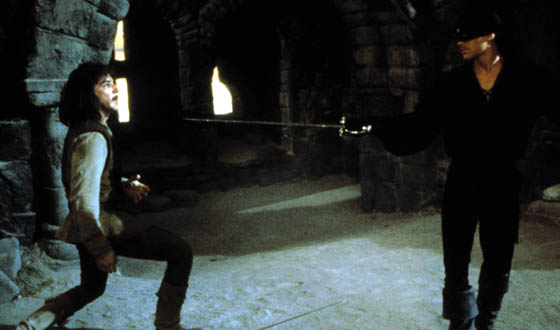 In epic battles of good vs. evil, the outcome often comes down to a one-on-one combat. A duel if you will. Historically, duels have been fought to settle a disagreement: Don't like what someone called your mother? Out come the swords! Fantasy movies, as it happens, have some of the best duels — and the best reasons for fighting them.
10. MacLeod vs. Kurgan – Highlander (1986)



This entire movie is one long duel. Still, the final battle in the parking garage is the one that counts. It is beautifully lit and incredibly evocative. The fight itself, unfortunately, involves a lot of grandstanding and silly waving of pointy things. It's a good thing it's so dark and moody.
Point of Disagreement: There can be only one
Weapon: Swords
Winner: MacLeod
9. High King Peter vs. King Miraz – The Chronicles of Narnia: Prince Caspian (2008)


If you want to secure a kingdom, what better way to do it than pit a 12-year-old boy against a middle-aged man? To be clear, Peter goes into this expecting to lose, but of course he's the High King and supported by Aslan, so he totally trounces the usurping Miraz. Too bad there's treachery afoot among Miraz's advisers, so the victory isn't as clear cut as it should be.
Point of Disagreement: Control of Narnia
Weapon: Swords
Winner: Peter, sort of …
8. Will Turner vs. Captain Jack Sparrow – Pirates of the Caribbean: Curse of the Black Pearl (2003)



These two fellows meet and take an immediate disliking to one another. Not surprising, since the good Captain is an escaped pirate. The duel rages through the confines of Will's blacksmith shop, taking good advantage of the topography for stunts like battling on a teetering wagon. The witty repartee also demonstrates each man's character nicely.
Point of Disagreement: Miss Swann's honor
Weapon: Swords
Winner: Will Turner
7. Indiana Jones vs. Thug in the Market – Raiders of the Lost Ark (1981)



Granted it's only fifteen seconds long, but I love this duel so much. What do you do when faced with a giant man wielding a sword? Pull out a gun. I mean really. If you have superior firepower, forget the whole "fight with honor" thing.
Point of Disagreement: Nazism
Weapon: Scimitar, whip and gun
Winner: Indiana Jones
6. Harry Potter vs. Voldemort – Harry Potter and the Goblet of Fire (2005)


We've been waiting through three movies to see these two face off. He Who Must Not Be Named has Harry trapped and ready to be offed, and decides to duel him instead. Don't villains ever learn? Naturally, this doesn't go well for Voldemort. Points also deducted for not using the graveyard scene for anything except mood.
Point of Disagreement: Harry's existence
Weapon: Wands
Winner: Harry Potter
5. Lu Yan vs. Sun Wukong – The Forbidden Kingdom (2008)



Let's get serious. This movie exists solely for the purpose of giving us a martial arts duel between Jackie Chan and Jet Li. The dusty floor leaves visible trail of the fight's progress that's a joy to see. The only real problem is that the camera is frequently so close you can't see the artistry of the choreography.
Point of Disagreement: Who owns the golden staff?
Weapon: Golden staff and full body contact
Winner: Draw
4. Red Sonja vs. Kalidor – Red Sonja (1985)



If you're a warrior, what better way to tell the object of your desire your true feeling than by bashing it into them? One of the things I like about this duel is that the lovebirds fight until they are exhausted. (I'll leave be any hidden meaning therein.) It might not be the best choreography, but it certainly shows a range of choices.
Point of Disagreement: They're in Looooooove
Weapon: Broadswords
Winner: Draw
3. King Arthur vs. Lancelot – Excalibur (1981)



Hearing about an undefeated knight who won't let people cross a bridge without challenging him, King Arthur sends all his men against Lancelot. All fail, so Arthur has to try. This starts as a joust then moves to a sword fight to the death. It's a good use of terrain and choreography that doesn't strive to be pretty or clever.
Point of Disagreement: Right to cross bridge
Weapon: Broadswords
Winner: King Arthur
2. Yu Shu-lien vs. Jen – Crouching Tiger Hidden Dragon (2000)



I wish more filmmakers would watch this to understand how to do good fight scenes. The shots are long and wide so you get a sense of the choreography, while the cuts punctuate moments of stillness, like when Yu Shu-lien traps Jen's blade between her double swords. This fight is gorgeous and fluid.
Point of Disagreement: Possession of Green Destiny
Weapon: Swords, bodies, anything they touch
Winner: Draw
1. Man in Black vs. Inigo Montoya – The Princess Bride (1986)



It was hard to pick the best duel here in a movie filled with 'em — and I almost went with Inigo vs. the Six Fingered Man, but these two are more evenly matched. Of all the other fights this utilizes the terrain best, has wittier banter and best establishes the characters. The choreography ranges from flash to serious fencing, and you can always see it.
Point of Disagreement: Princess Buttercup's safety
Weapon: Rapiers
Winner: Man in Black

Mary Robinette Kowal is the winner of the 2008 John W. Campbell Award for Best New Writer and a professional puppeteer. Her first novel, Shades of Milk and Honey, is being published by Tor in 2010.
Read More