Mary Robinette Kowal – Alice in Wonderland and Harry Potter Fill Fantasy's 2010 Slate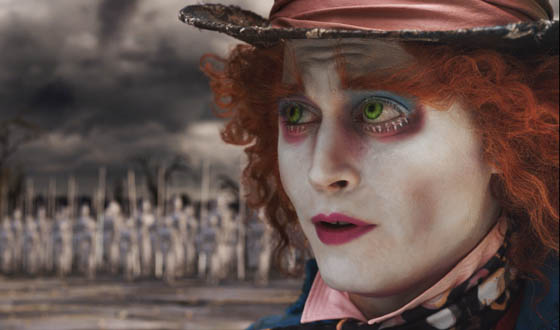 <img src="http://dev.blogs.amctv.com/wp-content/uploads/2010/01/Alice-in-Wonderland-560.jpg" alt="" title="Mary Robinette Kowal – Alice in Wonderland and Harry Potter Fill Fantasy's 2010 Slate" width="560″/>

If December is a month for looking back, January is for looking ahead. And I don't know about you, but there are a whole slew of fantasy movies slated for release this year that have me thinking 2010 will be a magical year. If you had any doubt that fantasy is entering its hey-day, check out this year's lineup.
Percy Jackson and the Olympians: The Lightning Thief (February 12)



As Harry Potter winds down studios are looking for the next franchise, and 20th Century Fox is betting that Percy Jackson will be it. He's a young man who discovers that he's actually a demigod — the son of Poseidon — but it's set in modern day. So you've got a mix of ancient Greek Gods and contemporary sensibilities. Also amusing: They used the Parthenon in Nashville, Tennessee for part of the filming.
Alice in Wonderland (March 5)
Tim Burton does Alice in Wonderland. So, we're taking a story that's already surreal and making it stranger. Is that possible? From the trailers, yes. This looks to be a "sequel" that takes the original story and landscape of Wonderland and spins it into a strange, new place. With Mia Wasikowska as a 19-year old Alice and Johnny Depp as the Mad Hatter, it's sure to be a pretty movie, if nothing else.
The Twilight Saga: Eclipse (June 30)



Rumor has it that cinemas are putting up additional soundproofing in theaters where Eclipse is scheduled to screen. Not because of explosions, but to control the damage from all the squealing girls. Okay… I'm making that up, but it's probably not a bad idea. The romance between Bella and Edward continues, plus we can look forward to even more vampires. Can you ever really have enough of them?
The Last Airbender (July 2)
Oh, M. Night Shyamalan, please do not disappoint us with this movie. The casting has already undergone some serious controversy by white-washing the original Asian characters. Still, the trailers look good and the original series rocks, so it's possible that the flick might be good. We can look forward to some good action scenes and epic battles. I'm also betting there will be a ton of wire-work in this.
The Sorcerer's Apprentice (July 16)



This could either be really, really good or really, really bad. Why? Nicolas Cage in a live-action adaptation of the "Sorcerer's Apprentice" sequence from Fantasia. The short sequence has been completely reimagined and set in New York City, where a college student tries to learn magic from an honest to goodness magician (that would Nic, who's usually about as convincing in fantasy as… well, he is in anything else). Wacky hijinks ensue.
Clash of the Titans (March 26)
I'll admit to being a little dubious when I first heard they were remaking this one. I mean, how can you improve on Ray Harryhausen's work? But… director Louis Leterrier sought Harryhausen's involvement here, and the trailers don't look half bad. After seeing Sam Worthington's work in Avatar, I'm all ready to see him in a sword and sandal epic. I say, bring back the boys in skirts — they are adorable.
Rapunzel (November 12)



Hey! Disney's doing another classic fairy tale. While I could wish that the princess here weren't your cliche blond, I also have to acknowledge that this is true to the Brothers Grimm story. The test clips look stunning, combining the Rococo style of the painting you see in "The Swing" with CGI dimensionality, which is an interesting blending to say the least. When so much CGI is pushed toward photorealism, I'm curious to see it deliberately attempt the painterly.
Harry Potter and the Deathly Hallows, Part I (November 19)
Do I really have to explain this one? One of the things that is newly appealing to me here is the decision to split the book into two separate movies. While the first two movies of this franchise were slavishly devoted to the books, the last couple have had to skim the surface a bit too often. It'll be a difficult needle to thread, but giving this chapter some more breathing room might be just what the franchise needs to end on a high note.
The Chronicles of Narnia: Voyage of the Dawn Treader (December 10)

Narnia's end-of-year scheduling might eventually slide it into 2011 — the movie itself has had a bit of a voyage, changing studios from Disney to 20th Century Fox and switching locations multiple times. Still, if it's ever released we'll get to see the old team again with Lucy, Edmund and Caspian traveling to the edge of the world. If the eye candy of the first two flicks remains, it'll be well worth the wait — and the price of admission.
Mary Robinette Kowal is the winner of the 2008 John W. Campbell Award for Best New Writer and a professional puppeteer. Her first novel, Shades of Milk and Honey, is being published by Tor in 2010.
Read More