Mary Robinette Kowal – The Evolution of Fantasy Musicals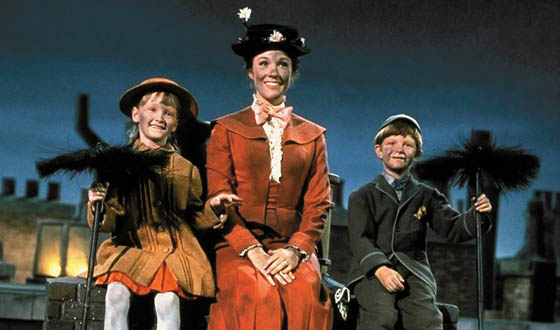 My husband and I have this long-standing disagreement about musicals. He thinks that by nature all musicals are fantasy since nobody really breaks into song in real life. I disagree, and say that musicals are a form of stylization. No matter how you slice it though, musicals and fantasy movies have had a long history together — even long before the Disney powerhouse leaped on the scene. On this New Year's Day let's take a hop, skip and shuffle through the real history of musical fantasies, one decade at a time.
The Wizard of Oz (1939)



This was hardly the first pairing of musical and fantasy, but it's the one that made everyone sit up and take notice, winning an Academy award for "Somewhere Over the Rainbow." The longing that Dorothy Gale (Judy Garland) sings about is nicely matched with what pulls people to fantasy — a desire to be somewhere brighter and more interesting than the mundane world. It's a perfect pairing of song and subject.
Cabin in the Sky (1943)
This take on the Faust legend is a landmark movie for multiple reasons. It was the first fantasy to start as a Broadway play. More importantly, it was the first musical feature with an all-black cast — some theaters refused to show it because of that. Talk about a deal with the devil… Despite that, the song "Happiness Is a Thing Called Joe," sung by Ethel Waters, was nominated for an Academy Award. The movie brilliantly blends fantasy, social commentary and uses music to bring an emotional resonance to its story.
Brigadoon (1954)


Another flick that jumped from Broadway to the silver screen, this one is a fine example of how music can express the magic of romance. In a normal movie when the heroine falls in love within the first ten minutes, it can can seem completely unbelievable. But if you make the leads Cyd Charisse and Gene Kelly and put them into a dream ballet, then you've got fantasy on the dance floor.
Mary Poppins (1964)
The challenge to filming something filled with magic is in conveying that sense of wonder to the audience. And one of the ways musicals do this is through changing your perception of time. When you need to pack the wonder of an entire afternoon into three minutes, nothing does that quite so well as a song like "It's a Jolly Holiday with Mary." If you need to stretch out a single moment, you can do that with a song like "Chim Chim Cheree" (yet another Oscar winner). Much like Mary Poppins herself, a song can make time fly.
The Wiz (1978)



Though it was a commercial flop, The Wiz is important because it creates an utterly contemporary soundscape to match the updated vision of Oz — a marked departure from the types of songs that are at home on any musical theater stage. The songs of The Wiz belong firmly to that world and define the fantasy as clearly as the costumes or set design. If it had been eligible for Best Original Song, it probably would have eased on down the road with that.
Labyrinth (1986)
In the best musicals, the songs are so thoroughly integrated that you can't pull them out without damaging the storyline. What's interesting about this one is that with one exception, only the Goblin King gets songs. That's because as Jareth, David Bowie uses music as his form of magic and each song is a potent threat. The songs make the spells palpable in ways that special effects cannot — or at least, could not in 1986. But come on, would you want Bowie any other way?
Disney's Glory Years (1990s)



I'm totally breaking the rhythm of one movie per decade here because it's important to talk about Alan Menken and Howard Ashman. Starting with The Little Mermaid, they created three nearly perfect musical fantasies, each of which raised the bar for the genre. If you check the Academy Awards you'll note that Little Mermaid, Beauty and the Beast and Aladdin won the Best Song in the years they were eligible. Mencken and Ashman achieved this in a time when musicals had begun to die out, and really set the stage for a revival that continues all the way to 2009, with Disney's The Princess and the Frog.
I've left out a slew of musicals that from a range of movies like The Muppet Movie, Joe's Apartment, and Enchanted. What are some of your favorite musical fantasies?

Mary Robinette Kowal is the winner of the 2008 John W. Campbell Award for Best New Writer and a professional puppeteer. Her first novel, Shades of Milk and Honey, is being published by Tor in 2010.
Read More