Legion Review – A Wingless Angel, Paul Bettany Is God's Problem Child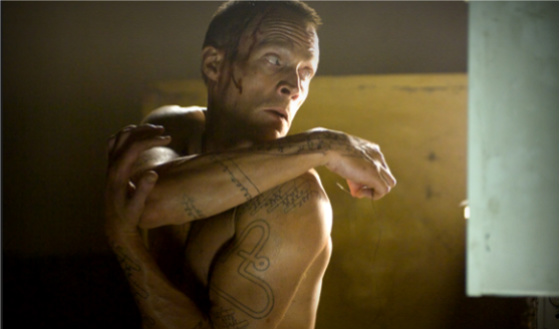 Beleaguered parents of the world, take heart: If Legion is to be believed, even God Almighty has His hands full with kids. And if He can't keep his squabbling children in line then really, how are you supposed to do better? Yes, that's irreverent, but we're talking about a movie that arms the studly, tattooed Michael with more machine guns than the Chechnyan army and pits him against trash-talking demon grannies, exploding corpses and an ice-cream seller who mutates into a spider-limbed acid nightmare — all because some trampy, chain-smoking hash-slinger is carrying a bastard who's supposedly the last, best home of the human race. Reverence is so not the issue.
December 23, Los Angeles. As the street scum brawl, booze, screw and shoot up, a buff, heavily-inked stranger picks himself up off the mean streets and makes tracks for the shuttered Happy Toy Company, which traffics in more lucrative merchandise than squeaky Santas, if the hidden room crammed with machine guns is anything by which to judge. After painfully stitching up his bleeding shoulders — the ones that can't help but conjure the shadow of giant wings — the stranger kills a pair of cops, steals a police car and hits the road, lights sparking in his wake.
Meanwhile, a ragtag collection of travelers converges on the dismal Paradise Falls, a failing eatery on the edge of the sere Mojave desert. Bitter, disillusioned Bob (Dennis Quaid) owns the place with his no-bull partner Percy (Charles S. Dutton), a military veteran with a hook for a hand and an abiding belief in the good Book. Bob's son Jeep (Lucas Black) helps him run the place and is hopelessly in love with hard-luck waitress Charlie (Adrianne Palicki), who's eight months pregnant and mad at the world.
Unhappy, middle-aged malcontents Sandra and Howard (Kat Walsh, Jon Tenney) are seething in a booth while their trampalicious daughter Audrey (Willa Holland) shakes her barely-clad ass by the jukebox. Kyle (Tyrese Gibson) blows in on a cloud of poor map-reading skills and urban attitude, and just as the telephone, radio and TV cut out sweet old granny Gladys Foster (Jeanette Miller) shuffles in looking for a nice bit of steak. It's another boring day in the diner at the end of the world, until Gladys transforms into a fanged freak and scuttles up the wall, hissing that Charlie's baby is going to burn in hell.
With the arrival of the wingless stranger — non other than the self-mutilating Archangel Michael (Paul Bettany) — the stage is set for a showdown of, well, Biblical proportions: Michael backs humanity while the angelic hardliner Gabriel (Kevin Durand) enforces God's every fit of divine pique.
Were you to cross The Prophecy with Key Largo, add a generous dollop of Night of the Living Dead and smother it with a yummy layer of apocalyptic imagery, you'd have something very like Legion, which is pretty damned entertaining when it's not bogged down in gloomy, back-story driven sequences in which various characters lay bare their damaged souls.
If you like your angels meek, mild and bathed in subtle heavenly radiance, this is not the movie for you. But if your taste runs to black-winged mercenaries, child-berserkers with long knives, spider-limbed ice-cream salesmen and pestilent clouds of lies, well then Legion just might be the fiendishly divine diversion for you.
To read our feature on Evil Angel movies, click here.
Read More