John Scalzi – Do the Producers Guild Nominations Foretell Oscar Bids for SciFi?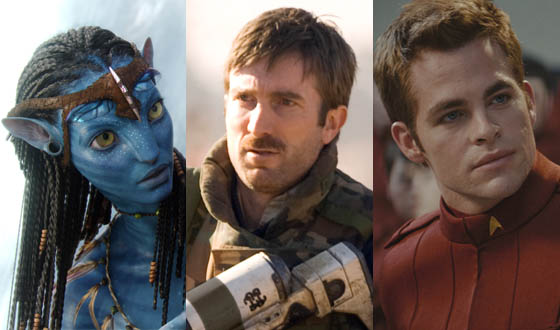 It appears that at least some of the folks who read this column are closely following the awards and nominations that come out in advance of the Oscars. The following question popped up in my inbox:
The Producers Guild of America nominated three science fiction films for their Best Picture award. Do you think that will mean anything for the Oscars?
My answer: It might.
For those of you not keeping up with awards stuff, the three scifi movies the Producers Guild nominated are Avatar, District 9 and Star Trek. Avatar is no real surprise; it's been nominated for four Golden Globes (including Best Picture, Drama), and it's going to be a very real contender for the Academy Awards. District 9 and Star Trek, on the other hand, were enough of a surprise that The Los Angeles Times headlined the strength of the genre in its article on the matter (the non-genre nominees: An Education, The Hurt Locker, Inglourious Basterds, Invictus, Precious, Up and Up in the Air).
The presence of three science fiction movies in the mix is significant in that the Producers Guild has not been notably friendly to scifi before and because, as with the Academy Awards, it expanded its Best Picture category this year from five movies to ten. So both of these add some real interest into the mix when prognosticating about how the genre will do come Oscar time. Many of the folks in the Producers Guild are also in the Academy, and it seems unlikely that their Best Picture votes would change substantially. So I think the chances of District 9 and Star Trek showing up on the Oscar Best Picture ballot have increased a bit.
One thing I think science fiction fans should keep in mind, however, is that these movies may have been nominated in spite of being science fiction — or at the very least, their scifi aspects may have been neutral factors, while other factors about their production were more significant in the nomination calculus. For example, all three were big box office hits, and having a mix of commercially-successful-yet-critically-acceptable movies to go with lesser-seen-but-critically-loved flicks allows for just the sort of cinematic spread that opening up the Best Picture lists was supposed to do. That they happened to be scifi might have been aside the point.
Beyond this, from a movie producer's point of view, Avatar gets points for being the new technical state of art, Star Trek gets a nod because reviving a failed and formerly profitable franchise is harder than it looks, and District 9 is an example of innovation coming cheap and from out of nowhere (for the values of "out of nowhere," which include Peter Jackson). None of this is necessarily about the movies' subject matter directly.
The other matter to consider is that although I think District 9 and Star Trek's chances to get on the Academy Best Picture slate have gone up a bit, producers aren't the only members of the Academy, of which everyone gets a vote for Best Picture. Consider that the largest branch of the Academy is the actor's branch, and while all three of these scifi flicks have things to recommend them, their performances aren't what stands out most. That might be a relevant factor when the actors make their Best Picture picks. If District 9 and Star Trek don't eventually make the final Oscar cut, my bet is that it will have been the actors who will have denied them.
Ironically, the one scifi flick with a really impressive acting performance, Moon, has been basically abandoned by its distributor when it comes to Oscar campaigning. It's possible that Sam Rockwell's turn as a lonely lunar resident might still get love, but the fact is there are a lot of impressive acting performances out there, and having one's studio doing some marketing come nomination time will make a difference when people are sitting with their pens, trying to remember what they liked in the last year. So I suspect Moon is going to miss out. Sorry, Sam; you deserve better.
Which is not to say scifi fans shouldn't have cause to celebrate. Three genre flicks landing on the nomination slate for a significant Hollywood award is an accomplishment no matter how it gets done, and if being a scifi movie is actually still a detriment to being considered for Best Picture, the fact that three managed to do it nonetheless is an achievement to savor. We'll see what it means for the Oscars soon enough, in any event.
Winner of the Hugo Award and the John W. Campbell Award for Best New Writer, John Scalzi is the author of The Rough Guide to Sci-Fi Movies and the novels Old Man's War and Zoe's Tale. He's also Creative Consultant for the Stargate: Universe television series. His column appears every Thursday.
Read More