Uncategorized
Flashback Five – James Cameron's Blockbusters (and Flops)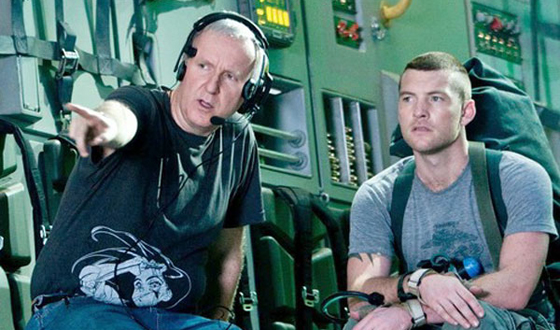 He's been the King of the World, collaborated with the Governor of California multiple times, and after a twelve-year hiatus from fictional filmmaking, is about to break his own box office records with the international mega-smash Avatar. But how much do you really know about James Cameron's filmography? Well, honestly, if his box office receipts are anything to go by: Quite a lot. Of course, not all movies are created equal as this box-office breakdown of his career makes clear…
1. Titanic (Worldwide Box Office: $1,842,879,955)
While Avatar may eventually surpass it in pure dollars, there's never been a phenomenon quite like Titanic, which brought audiences back to the theaters two, three, four — and sometimes even more — times to see Leonardo DiCaprio and Kate Winslet as young lovers from different worlds, torn apart by… well, a boat breaking in half. Ushering in a decade of Hollywood spectacle and CGI excess, Titanic also made household names of its two stars.
2. Avatar (Worldwide Box Office: $1,685,685,734)
Hey, remember this oldie but goodie? (Kidding!) Cameron's blue, nature-loving aliens dominated the box office with their 3D antics, enchanting the entire world with the director's vision of the alien moon Pandora and his made up cat-person language. In fact, the non-stop box office domination hadn't been seen at this magnitude since another little movie called Titanic. Guess who made that one?
3. Terminator 2: Judgment Day (Worldwide Box Office: $519,843,345)
Expanding on the themes of destiny and sacrifice presented in the first movie; featuring huge, epic set pieces; and most importantly, including the ground-breaking morphing effects for the evil T-1000 made T2 one of the rare sequels that's better in every way than the original. And just for fun, here's how to say "Come with me if you want to live," in Na'vi, the language from Avatar: "Txo new nga rivey, oehu!"
4. True Lies (Worldwide Box Office: $378,882,411)
James Cameron isn't necessarily known as a funny guy, but he manages to perfectly meld comedy and action in this tale of a super-spy trying to solve his domestic issues while kicking terrorist butt.
5. Aliens (Worldwide Box Office: $131,060,248)
Speaking of sequels that are better than (or at least equal to!) their originals, Aliens took what many argue was a haunted house movie set in space, lifted a few ideas, jacked up its heroine, and turned it into one of the best war movies ever made. Michael Bay could only dream of creating hardcore commandos like the ones that try to take down a host of xenomorphs in this unforgettable action flick.
Honorable Mentions
1. The Abyss (Worldwide Box Office: $90,000,098) – Without The Abyss' underwater aliens and groundbreaking effects, we would not have Seaquest: DSV. Never forget.
2. The Terminator (Worldwide Box Office: $78,371,200) – The movie that made Arnie a star, and Cameron's chance to meld his B-movie roots with amazing technical precision, this movie was only a taste of things to come.
3. Ghosts of the Abyss (Worldwide Box Office: $22,141,539)
In his downtime between making the two biggest movies of all time, James Cameron decided to relax by exploring the wreck of the Titanic with his friend (and frequent star) Bill Paxton.
4. Piranha Part Two: The Spawning (Worldwide Box Office: Unknown) – You can be forgiven for not knowing about this Jaws rip-off sequel, but it's worth seeing as a sign of the genius yet to come. OK, maybe that's a stretch, but then there's…
5. Xenogenesis (Worldwide Box Office: Unknown) – An actual sign of the genius yet to come, Cameron took apart and reassembled a camera just to understand how it worked before filming this scifi short.

Read More