Iron Man and Scott Pilgrim Lead the Comic Book Movie Charge in 2010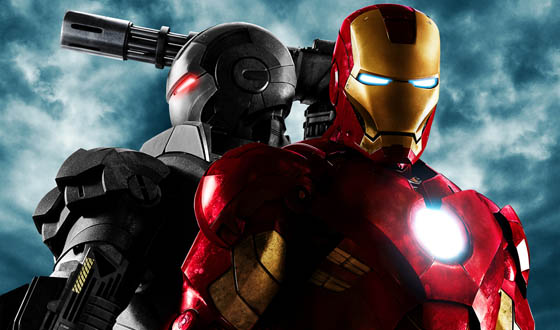 <img src="http://dev.blogs.amctv.com/wp-content/uploads/2010/01/Iron_Man_2_Poster_560x330.jpg" alt="" title="Iron Man and Scott Pilgrim Lead the Comic Book Movie Charge in 2010″ width="560″/>

OK, so 2009 wasn't exactly the most thrilling year for comic book movies. But 2010's potential for awesome can be summed up in two words: Iron Man 2. (Fine, two words and a number.) In addition to Tony Stark's return, a bevy of cult comics this year are looking to push the genre past capes and cowls. Take a look at 2010's slate and you'll find horror, teen comedy, spy drama and, alright, a few superheroes too (though not your usual suspects).
Kick-Ass (April 16)


While early clips for Matthew Vaughn's adaptation of Mark Millar's ultra-violent "realistic" superhero comic were a bit flat, the red-band trailer featuring Hit Girl and Nic Cage's Big-Daddy totally won me over. The mix of shocking violence and sharp dialogue is reminiscent of Vaughn's acclaimed crime drama Layer Cake, elevating Kick-Ass beyond its simplistic "Superbad in capes" concept. If nothing else, Kick-Ass could give the earnest teen superhero genre a much needed kick in the, er, rear.
Iron Man 2 (May 7)


Iron Man 2 is the most eagerly anticipated movie of 2010. And if the new trailer is any indication, Tony Stark has plenty of friends this time out: Not only is Mickey Rourke channeling Rocky & Bullwinkle's Boris, we also have Scarlett Johansson's Black Widow, Sam Rockwell's Justin Hammer and Samuel L. Jackson's eye-patch. The franchise is dangerously approaching Spider-Man 3 territory with all the new characters, but I have faith that Favreau and Downey Jr. can keep this sequel from over-loading.
Dead of Night (Spring Release TBA)


The supernatural investigator Dylan Dog has appeared in comics by Italian writer Tiziano Sclavi since 1986, but he's just now getting the Hollywood treatment. Superman Returns' Brandon Routh stars, bringing Dylan to America to hunt demons in his signature red shirt, black jacket and jeans. While it's too early to say whether he'll actually become the next Hellboy (or the next Constantine), Dylan is certainly the only hero around who looks like he just stepped out of Italian Vogue.
Jonah Hex (June 18)


Megan Fox in a corset. Need I say more? The real reason to be excited about this adaptation of DC's scarred Western anti-hero is its eclectic cast, ranging from Josh Brolin as Hex to John Malkovich as a crazy Confederate vet trying to rewin the Civil War. While news of I Am Legend director Francis Lawrence being brought in for re-shoots isn't altogether inspiring, the weird western world of Hex could make for a very different type of comic book movie.
Scott Pilgrim vs. The World (August 13)


Based on Bryan Lee O'Malley's hit series, Pilgrim follows the titular hero as he performs with coolest-band-in-comics Sex Bob-omb and
fights off girlfriend Ramona's seven evil ex-boyfriends. Michael Cera stars, and the rest of the cast is a who's who of young Hollywood. (Also fun: Brandon Routh and Fantastic Four's Chris Evans show up as evil exes.) While the lack of an early trailer is concerning, director Edgar Wright (Shaun of the Dead) definitely has the action/comedy chops to bring Scott to the mainstream.
Red (November 19)


The casting alone for this Warren Ellis spy comic adaptation is enough to inspire curiosity: everyone from Helen Mirren to Ernest Borgnine has signed on to play cat and mouse opposite Bruce Willis and Morgan Freeman. The high concept miniseries is perfect for Willis, who plays a retired CIA agent forced back into action when some younger, deadlier assassins come gunning for him. Though Ellis is one of the top writers in comics, Red is surprisingly his first to make it to the big screen. Look for that to change very soon.
Green Hornet (December 22)


When Seth Rogen was first announced as the star of this pulp hero update, a collective yawn emanated from the geek-o-sphere. But then director Michel Gondry (Eternal Sunshine of the Spotless Mind) signed on, and the project became one of the most intriguing of the year. Hornet has always been a fairly bland mish-mash of Batman and The Shadow, which provides Gondry with a blank slate to work his offbeat magic. And with Inglourious Basterds baddie Christoph Waltz on board as a crime lord, Hornet just might capture that pulp spirit that The Spirit lacked.
Nick Nadel writes for places like HBO and Asylum.com, and is the "geek" blogger for GuySpeak.com. Follow the Comic Book Movies column on Twitter for more superhero news and views.
Read More