Daily Scan for 01.26.10 – Farscape's Leading Man Is Revealed, Conan Is Cast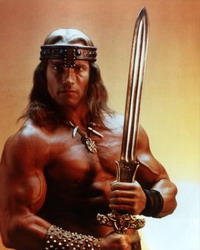 • My vote for the best science fiction show ever, Farscape, has continued in a series of canonistic comics. Now the latest miniseries, Farscape: Scorpius focuses on everyone's favorite S&M half-Scarran.
• Steven Spielberg's upcoming UFO series for TNT gets its first promo pic.
• SciFi Wire lists the 100 questions Lost Season Six better answer, or they'll go crazy. More than a few of these have already been answered, though, or don't need to be.
• No. No no no. Robert E. Howard's famous Cimmerian Conan is going to be played by Stargate Atlantis star Jason Momoa… or, in other words, a scowling guy with dreads.
• Event Horizon gets a truly bizarre theme song.
• Star Trek, Battlestar Galactica, Lost and Fringe all got nods at the Screen Actors Guild Awards this past weekend.
• Tron Legacy's director says it'll do for 3D what The Wizard of Oz did for color.
Read More