Classic Ten – The Perfect Comeuppance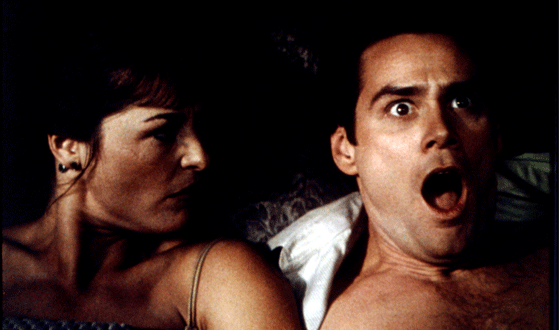 There are few things more satisfying than seeing the wicked suffer for their transgressions, and the more outrageously fitting the comeuppance, the better. In the just-released Tooth Fairy, a hockey player with a very unpleasant personality sprouts wings and shrinks down when he's sentenced to two weeks community service groping around under children's pillows. But there's plenty more ridiculous punishment to go around, as our list shows. Karma's a bitch, and so can be these vengeful ghosts, gypsies and candy factory owners.

10. Thinner (1996)
Stephen King doesn't really do wacky. So a fat guy (and very distracted driver) has a hex thrown on him by a vindictive gypsy and starts losing weight. A lot of weight. Fast. Thinner plays into the same fears that propelled movies like The Incredible Shrinking Man and The Fly — the hero can't control the changes in his body — but since it doesn't live up to its fine premise, it remains parked in last place.
9. The Cutting Edge (1991)
Prissy figure skater Kate (Moira Kelly) and deplorably arrogant hockey player Doug (D.B. Sweeney) are a couple of overgrown problem children who manage to stay hotheaded even on ice. Their punishment for being unbearable to all they meet? They're forced to pair up, so that they squabble and suffer and, of course, fall in love. Original it ain't, but we've all had to work with impossible partners, so The Cutting Edge deserves its ninth-place ranking.
8. Trading Places (1983)
Like a mortal toyed with by the gods on Mount Olympus, poor Louis Winthorpe III (Dan Aykroyd) sees his life unravel in the most humiliating ways. In short order, he's jobless, cashless and homeless, and all because he had the misfortune to become the unwitting subject of a cold-hearted social experiment perpetrated by his bosses. For one of the most memorable rich-guy-gets-it-good portrayals in movie history, Aykroyd earns this pic an eight.
7. Role Models (2008)
Sometimes, it's actually a judge who gets to hand down the verdict and dish out the discipline. And so it is that Danny and Wheeler (Paul Rudd and Seann William Scott), having destroyed a statue, are forced to mentor a crude, hormonal kid and a dweeby, cape-wearing outcast. Unshockingly, hilarity ensues, followed by warming of the heart. The reliably excellent Jane Lynch is on hand to ensure this one's place at number seven.
6. Ruthless People (1986)
In this beautiful illustration of the law of unintended consequences, a resentful couple (bad) kidnap Bette Midler's strident shrew (worse) whose philandering husband wants her dead (just terrible). And everybody loses! As they should. Of the myriad instances of characters receiving their just desserts in this movie, the most magnificent is that of a police chief who is accidentally blackmailed for his dalliance with a prostitute.
5. Freaky Friday (2003)
Cranky Anna (Lindsay Lohan) and intractable Tess (Jamie Lee Curtis) are bickering as teenagers and moms are wont to do, when wham! they swap bodies and lives, thanks to an inscrutable Chinese lady and her whims. Lessons learned: It's hard to be a teenager, and it's hard to be a mom. For furthering cross-generational understanding, and reminding us that Lohan can actually act a little, Freaky Friday lands in fifth place.

4. Scrooged (1988)
In this, the eight millionth (give or take) adaptation of Dickens' A Christmas Carol, Frank Cross (Bill Murray) is a mean, stingy producer who needs to be taught the spirit of Christmas. Luckily there are three Christmas spirits around to tackle the job, and he's forced to watch his miserable life unfold, even the parts that haven't happened yet. The supporting roles are the real draw here, particularly David Johansen and Carol Kane as the Ghosts of Christmas Past and Present, respectively.
3. Liar Liar (1997)
Oh, lawyers. They can talk themselves out of a tough spot, but they are powerless against a child's birthday wish. At least, that's the case for Fletcher Reede (Jim Carrey, midway through his transition from rubber-faced goofball to versatile leading man). Cursed with a 24-hour attack of truth-telling, Fletcher has to win a court case and the trust of his young son. That Carrey pulls it off while keeping the mugging to a minimum earns this one the number three spot.
2. Shallow Hal (2001)
Scratch the surface of the Farrelly brothers' broad, slapstick-y comedy and you'll find a gooey heart of gold. Appearance-obsessed Hal (Jack Black) gets hypnotized into seeing hefty Rosalie (Gwyneth Paltrow, in and out of a fat suit) as a thin, beautiful woman because of her inner gorgeousness. The message is a bit confusing, not least because Hal is no Adonis himself. And is it a good idea to equate good looks with goodness? Still, this one is clearly first runner-up material, coming in second just behind…
1. Charlie and the Chocolate Factory (2005)
In this beloved cautionary confectionary tale, misbehaving children suffer bizarre — and sometimes a little scary — consequences. If it weren't for the musical interludes and the candy-colored palette, one could call Roald Dahl's classic a Seven for the tween set. For creatively dispatching a passel of irritating tykes (Mike TV! Veruka Salt! Augustus Gloop!), and for being kid-friendly without condescension, Willy Wonka et al. take home the gold.
Read More