Classic Ten – Most Memorable Marriage Proposals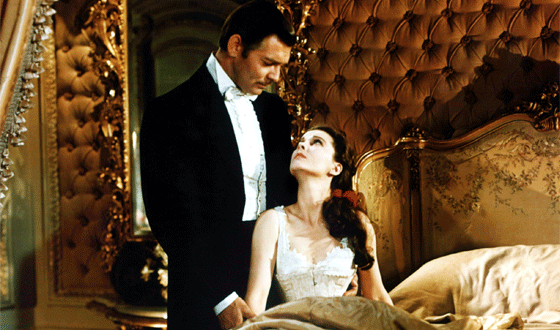 What's the quickest way for a movie to win an audience's heart? A precocious youngster? An adorable puppy? Nah. It's a marriage proposal: A gent on bended knee, ring in hand, and a lady with eyes welling and lower lip a-trembling. Leap Year, due out Jan. 8, turns that formula on its head, as Amy Adams sets out to pop the question to her foot-dragging boyfriend. But she's hardly the first to improve upon the standard-issue cinematic wedding kick-starter. These on-screen invitations to matrimony prove that there are as many paths to bliss as there are happy couples.
10. The Wedding Singer (1998)
Is there a stronger declaration of love than promising to let someone else hold the remote control? In the tenth spot in our countdown, Julia (Drew Barrymore) thinks not, and after a lot of ups and downs, crossed signals and near misses, Robby (Adam Sandler) finally wins her heart with the help of early '80s punk icon Billy Idol, the passengers and crew of a flight to Las Vegas, and a sentimental song he's written called "Grow Old With You."

9. Stepmom (1998)
In this new-wife/old-wife mega-weepie, Luke Harrison (Ed Harris) works hard to ensure that when he asks his young paramour to marry him, the proposal doesn't seem like a sloppy second. Still, Isabel (Julia Roberts) is initially confused when she's presented with a spool of thread. D'oh! It's just the ol' bait and switch, and Luke soon sends a glittery ring sliding toward her finger. That's two proposals for the price of one, so this one squeaks onto the list at ninth.
8. When Harry Met Sally (1989)
This iconic comedy asks whether a man and a woman can be friends. The answer? Not really, no, and definitely not if they accidentally sleep together. They can, however, be soul mates. Although Harry never formally asks Sally to marry him in the breathless final scene, he does say "When you realize you want to spend the rest of your life with someone, you want the rest of your life to start as soon as possible." Done, and done.
7. Love Actually (2003)
Jamie Bennett (Colin Firth) falls so hard for Aurelia, his beautiful housekeeper, he learns just enough Portuguese to propose in her native tongue, and in full view of her family, a passel of neighbors and the staff of the restaurant where she works. Except for the distinctly non-Shakespearean language — her reply is "Yes is being my answer" — it's a lovely spectacle reminiscent of the balcony scene in Romeo and Juliet. For that it easily earns its seventh-place slot.
6. Rocky II (1979)
Fresh from a stint in the hospital, Rocky proposes to Adrian during a trip to the zoo on a snowy winter day, with only a lone tiger as a witness. His approach is appealingly self-effacing: "I was wondering if you wouldn't mind marrying me very much." Her acceptance is equally low-key: "Yes, I'd like to marry you." Rocky even invites the tiger to the wedding. For going on to become one of cinema's most memorable couples, this outer-borough pair comes in sixth.
5. The Proposal (2009)
With a title like this, Sandra Bullock's smash-hit rom-com is simply begging for inclusion smack in the center of this pack. Although love isn't what binds Margaret and Andrew together — like European royalty, theirs is a business arrangement — they do get there after a fashion. His "Marry me, because I'd like to date you" wins big points for originality, and the sight of their office-mates clutching hand to heart ups the aww factor considerably.
4. Four Weddings and a Funeral (1994)
Strictly speaking, Charles doesn't exactly propose marriage to Carrie; there will be no fifth wedding. And despite the emotional fraught-ness of the scene, and Hugh Grant's adorable stammer, it's almost impossible to get past Andie MacDowell's awful reading of the awful line "Is it still raining? I hadn't noticed." But he does ask her to spend the rest of her life with him. And she does say "I do." And only the hardest heart wouldn't find the whole thing at least a little touching.
3. Love Story (1970)
What can you say about a 25-year-old girl who dies? Tons, apparently, and for nearly four decades. The movie adaptation of Erich Segal's novel has been devastating audiences from the moment Oliver and Jenny (Ryan O'Neal and Ali MacGraw) stopped saying they were sorry. The proposal scene is notable for being among the film's least passionate exchanges. Why does he want to marry her? Because. And that's a good reason. Good enough to be third from the top, at least.
2. Gone With the Wind (1939)
The proposals in David O. Selznick's classic aren't particularly romantic, but they sure are numerous! After being widowed for the second time, Scarlett O'Hara Wilkes Kennedy is knocking back brandy when Rhett Butler arrives to woo her with the immortal words, "I can't go all my life waiting to catch you between husbands." After that inauspicious start, the scene turns rather steamy, despite the fact that she's really not that into him. Understandable: For a certain kind of woman, his witty words would do the trick regardless.
1. Pride & Prejudice (2005)
Elizabeth Bennett (the impressively long-necked Keira Knightley) is an independent sort, especially by the standards of early 19th century England. Yet even she cannot resist when Mr. Darcy strides out of the mist to tell her he never wishes to be parted from her, and that she has bewitched him body and soul. Naturally, she responds, "Well, then, your hands are cold." Perhaps this is Jane Austen-speak for "Yes, I'll marry you." In any case, all this dreaminess earns Pride & Prejudice pride of place on our list.

Read More