Classic Ten – Hollywood's Heaven-Sent Angels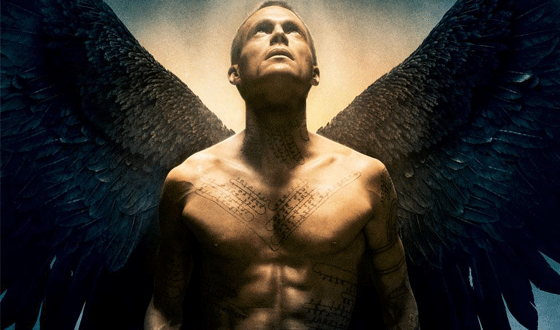 In Legion, Paul Bettany plays an archangel who protects humanity from Armageddon after God gives up on mankind. That's very sweet — but not all angels have been so noble in movies. Take this list of classic angels in cinema: Some have wings and emit a saintly white glow, while others swear, smoke and even murder! Your thoughts on angels in general probably dictates where you'd place each of these candidates on this list — don't be shy about voicing your dissent in the comments below.
10. Emmanuelle Beart in Date With an Angel (1987)
Sultry French actress Emanuelle Beart didn't have to speak English to play an angel in this cheesy romance: She communicated with bizarre porpoise sounds. Plot-wise, Beart has been sent to Earth to whisk away the soul of a dying executive, but when a satellite nicks her wings he nurses her back to health and romance ensues. The movie is forgettable, but Beart's tenth-place-earning beauty and odd warbling are not.
9. Virginia Madsen in A Prairie Home Companion (2006)
In Robert Altman's tribute to Garrison Keillor's beloved show, a long-running radio program faces imminent demise. On the day of the final episode, an angel of death (Madsen), dressed in a white trench coat, visits the set to help performers cope. Her appearance in the weird role was certainly memorable, but her small role in the vast ensemble cast lands this at a modest ninth place.

8. Tilda Swinton in Constantine (2005)
Swinton plays a minor role in this somewhat lame graphic novel adaptation, but it's an arresting one — probably because her presence is always so attention-grabbing. Swinton plays an androgynous version of the archangel Gabriel who advises a Los Angeles exorciser (Keanu Reeves) as he tries to save his soul. Sometimes she appears in a suit and tie, other times in a white bodysuit. You have to give props to her fashion sense, which earns her eight place.
7. Christopher Lloyd in Angels in the Outfield (1994)
A very young Joseph Gordon-Levitt stars as a kid who prays for the beleaguered California Angels to finally win the pennant (he thinks it will bring his family together). His prayers come true when Al the angel (Lloyd), who's visible only to the kid, starts giving the team a helping hand. It's better than steroids! This Disney remake of the eponymous 1951 movie comes in seventh place, thanks to the not inconsiderable nostalgia factor Lloyd helps it to evoke.

6. John Travolta in Michael (1996)
On the heels of Pulp Fiction, Travolta donned wings to play an angel who decides to spend his vacation in small-town America. As an off-hours angel, he breaks all the stereotypes of his species: He chain smokes, scratches his crotch and eats like a slob. When some reporters (Andie MacDowell and William Hurt) decide to write about him, they embark on a road trip all together. The image of Travolta in wings should be enough to warrant his inclusion on this list.
5. Nicolas Cage in City of Angels (1998)
Based on the 1987 Wim Wenders movie, Wings of Desire, this Meg Ryan romance is widely considered an inferior adaptation. Still, it's an undeniably classic tale of fallen angels. Cage plays Seth, an angel who falls in love with a surgeon (Meg Ryan) but hides his true identity. The only way he can be with her (e.g. consummate the relationship) is to bid adios to angelhood and become a human being. Inevitably, it ends in tragedy. Lovers of angels, beware!

4. Jessica Lange in All That Jazz (1979)
Lange plays the angel of death in this autobiographical Bob Fosse musical, about a workaholic theater director (Roy Scheider) who collapses in the midst of a crazy production schedule. As his health continues to fail, Lange appears in his visions as a luminous figure draped in white. The spectacular closing number, "Bye Bye Life," ends with a steady zoom into Lange's face as Scheider finally dies. The spine-tingling scene lands Lange at number four.

3. Christopher Walken in The Prophecy (1995)
Walken is not the first person you'd think of to play an angel, but if it's the kind of angel that starts wars in Heaven and sets Eric Stoltz on fire, then he's your man! In this first installment of the Prophecy franchise, Walken stars as villainous archangel Gabriel, who's hunting for the soul that will help him win the battle among angels. Stoltz, as a good angel, tries to stop him, as does a priest-turned-cop played by Elias Koteas.

2. Matt Damon and Ben Affleck in Dogma (1999)
Kevin Smith's irreverent romp stirred up a religious brouhaha when he cast Damon and Affleck as angels who've been kicked out of Heaven by the Big (Wo)Man upstairs. When they find a loophole in Catholic Dogma which will allow them back into heaven — but would also destroy mankind in the process — they bicker hilariously about their options. Damon and Affleck nab second place for turning angel archetypes inside-out.

1. Henry Travers in It's a Wonderful Life (1946)
Clarence Oddbody, played by Travers, is the sweetest guardian angel that ever existed in cinema, and thus earns the top spot. As the story famously goes, he saves a depressed George Bailey (James Stewart) from leaping off a bridge on Christmas Eve. To prove to his skeptical charge that life is indeed wonderful, Clarence shows George what Bedford Falls would have been like if he'd never been born. In the end, the deserving Clarence finally gets his wings.

Read More