Uncategorized
Flashback Five – The Best Tommy Lee Jones Movies You've Never Seen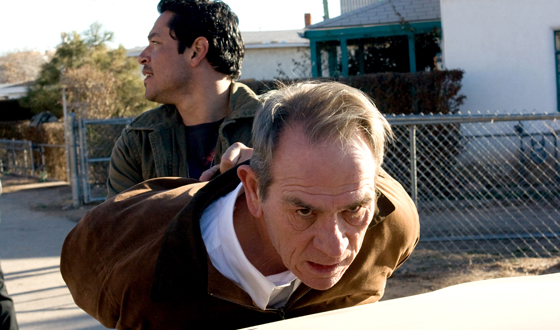 You've watched The Fugitive 48 times. No Country for Old Men is on constant loop in the mini-van. You want your own neuralizer so you can watch Men in Black over and over, and each time it would be like watching a new movie. Clearly, it's time to find a new Tommy Lee Jones movie to obsess over. Luckily for you, we've got a look back at ten of the best you've never seen. Read on!
1. In the Valley of Elah (2007)
In the same year that No Country for Old Men came out, everyone was scratching their heads as to why Jones got nominated for this movie, and not the Coen brothers' indie juggernaut. And then no one bothered to watch it! Do yourself a favor and seek it out: Jones' portrayal of a father searching for answers into his son's disappearance is heartbreakingly haunting, and one of the best of his career.
2. A Prairie Home Companion (2006)
Why buy the movie when you can get the radio show for free, right? At least that's what moviegoers seemed to say when they avoided this star-studded movie like the plague. Even with an over-packed ensemble, Jones brings gravitas and humor to the otherwise rote role of "corporate suit who is shutting down the radio show." It's a whimsical delight.
3. The Three Burials of Melquiades Estrada (2005)
As the movie's director, Jones shows as steady a hand behind the lens as he does when leveling a gun on a suspect in one of his famous protector-of-the-peace roles. Jones also stars in the flick, in which he investigates the murder of his best friend and fellow farmhand. Creatively structured and excellently acted, this is one to seek out.
4. The Missing (2003)
Between working on award-winning blockbusters with Russell Crowe, Ron Howard took a break and created this well-crafted western thriller with Tommy Lee Jones. Here, Jones again plays a remote father trying to reconnect with his child, but as usual, gets caught up in circumstances — Native American slave traders this time — far beyond his control. The result is a tightly wound, taut thriller that you might even say is better than either of those two Crowe flicks.
5. Small Soldiers (1998)
Maybe you skipped Joe Dante's spiritual follow-up to Gremlins because you heard it was, you know… bad. But that's wrong! Let's say you're home sick one day, and you turn on a bizarre movie about toys that come to life, that pits a hard-as-nails commando action figure (voiced by Tommy Lee Jones!) against good guy monster figures — and things only get crazier from there on out. Couldn't you think of worse ways to spend your time?
Honorable Mentions:
1. Blue Sky (1994) – A surprisingly textured look at how the American military treated depression in the '60s, Jones anchors this drama as a repressed military scientist who loses complete control of his wife — and his life.
2. Heaven & Earth (1993) – Alternating between gentle and violent, as an unhinged Marine who falls in love with a Vietnamese girl, Jones gets to flex both ends of his considerable range.
3. House of Cards (1992) – Jones channels his gentle side for a change, portraying a doctor specializing in autism. With great performances by Jones and Kathleen Turner, this is a must-see for Jones completists.
4. Rolling Thunder (1977) – In this early oddity, Jones plays a good friend who helps his military buddy bring bloody, violent vengeance on an out of control Texan gang. Hey, it's one of Quentin Tarantino's favorite movies, so it can't be half bad.
5. Love Story (1970) – OK, fine, so you've seen this one… But did you remember that Tommy Lee Jones kicked off his movie career here in a bit part as one of Ryan O'Neal's college roommates? Maybe it's time to revisit.

Read More