AMC News Golden Globes Behind-the-Scenes Photos and Video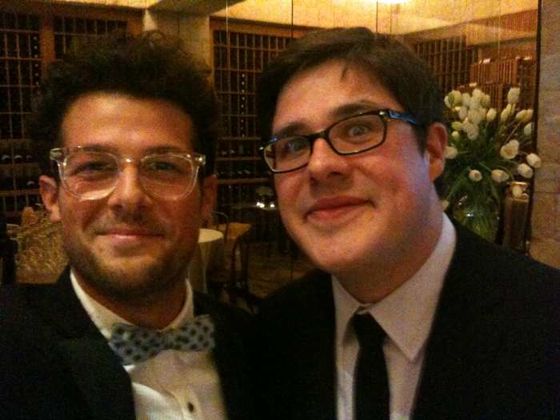 Last night I live-tweeted from the AMC party at Golden Globes, and I hope you followed along. Rich Sommer (aka. Harry Crane from Mad Men, pictured above with yours truly) knew about it, he told me. But if you missed it, keep reading for some of the highlights, including my exclusive iPhone video at the moment Mad Men won Best Dramatic Series on Television for the third year in a row.
Several of you told me through Twitter that our updates with the winners were beating most of the other mainstream media outlets. That's probably because I was watching an internal feed of the show, not the feed that was piped through cable or satellite carriers before it made it onto your TV. Here are some of my favorite AMC News tweets from the evening in chronological order:
Olivia Wilde was first to mention #Haiti I've heard on Globes Red Carpet. @imsalmasekela is wearing a ribbon w Haitian flag colors too.
Olivia Wilde said she just returned from #Haiti before the earthquake.
On the way to the Golden Globes. I'm driving. It's raining. See pic. http://twitpic.com/ykh30
Just ran into @davekarger from EW as I was walking in. http://twitpic.com/yknkz
My view of the red carpet from inside the Golden Globes lobby. http://twitpic.com/yknrl
My beautiful date! http://twitpic.com/ykohx

Lots of laughs at Ricky G's open at AMC party in lobby of Globes so far.

In this room watching this screen: Aaron Staton, @richsommer and @robertalanmorse. And me. http://twitpic.com/yl0xt

We're watching the internal Globes feed at AMC party. At 10 seconds til show they ask for applause.

The Golden Globes bathroom line during the commercial break is like at a sporting event during an intermission.

YES! RT: @AMCnews holy s***. that came before announcement was made on TV for me….voodoo? (via @TheLoneOlive)
Best series drama: Mad Men! And the crowd goes wild in here!

At the moment Mad Men won, I pulled out my iPhone and shot this video. Take a look:
Read More