AMC News at Sundance, Day 6 – Elijah Wood, Diego Luna, Malin Ackerman and More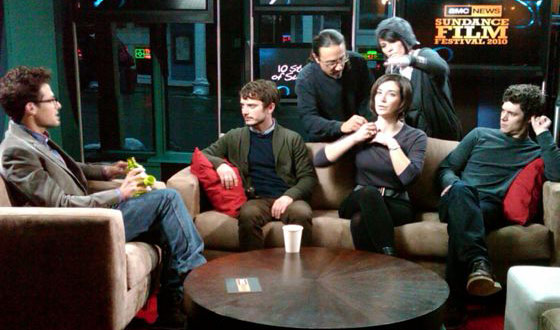 Yesterday in our AMC News Sundance studio, we discussed some breaking news with John Horn, the LA Times' reporter here covering acquisitions. He said that The Kids Are All Right was on the verge of a sale, and this morning he writes with Steven Zeitchik that it happened:
Focus Features appears to have closed a
deal to acquire rights to Lisa Cholodenko's family dramedy "The Kids
Are All Right," according to a person familiar with the negotiations.
Focus paid about $5 million for the film's domestic rights, and also
acquired some foreign territories, according to the person.
We also had our fair share of actors (see Elijah Wood, Rebecca Lawrence and Adam Brody, above) and filmmakers in the studio yesterday, so here's the "short and tweet" recap, as tweeted by myself and AMC News producer Mark Marraccini.
Now we're back at it today, hard at work in the AMC News Sundance production office. Here's a peek:
We'll have lots more content from Sundance as the week goes on and we approach the premiere of the AMC News Special: 10 Stories of Sundance this Friday night at 11PM | 10C. As we work to finish the show be sure to follow along with us on Twitter.
Read More