AMC News at Sundance, Day 5 – Discussing Docs Waiting for Superman and AvaToad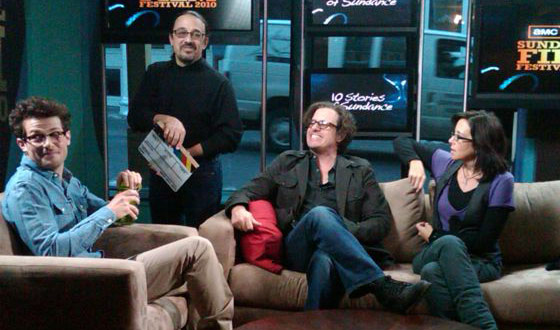 Waiting for Superman and AvaToad" width="560″/>

Day 5 at Sundance was our most packed yet. As I chronicled on Twitter, I was up at 6AM to prepare for the day ahead, and the day ended with me (unintentionally) passed out on the couch sixteen hours later.
I was most looking forward to the interview with Davis Guggenheim and Lesley Chilcott (pictured above), the team behind An Inconvenient Truth and this year's Waiting for Superman documentary about the education system in America. Not only did they get John Legend and Bill Gates to attach themselves to the film, both men flew up to Sundance to promote it.
An Inconvenient Truth and Waiting for Superman were produced by Participant Media, which has four documentaries in this year's festival, including Cane Toads: The Conquest, a 3D film that promises to shake up the nature documentary genre. That film's director, Mark Lewis, joked that because of the global success of the 3D science fiction epic Avatar, he told Participant that he wants to rename his film "AvaToad."
As I begin to prep for the day ahead, here is my "short and tweet" recap of the interviews we did yesterday:
• http://twitvid.com/B880E – Day 5 at #sundance begins with my preview video on way to studio! /@jacobsoboroff
• Shooting standups for the #sundance show hoping this snow doesn't fall on me. /@jacobsoboroff http://twitpic.com/zptbd

• http://twitpic.com/zq9lz – Ready to intv Justin Bartha, Ari Graynor, Jesse Eisenberg from 'Holy Rollers'
• http://twitpic.com/zqiqd – Ready to intv Sebastian Junger / Tim Heatherington from 'Restrepo' doc
• in just a bit @thecarpetbagger will be stopping by for an interview in our #sundance studio. looking forward to it. /@jacobsoborof
• http://twitpic.com/zr2qw – Ready to intv Michelle Williams and Ryan Gosling from 'Blue Valentine
• http://twitpic.com/zrat5 – Ready to intv Adrien Grenier for his doc 'Teenage Paparazzo
• http://twitpic.com/zre46 – Ready for Davis Guggenheim and producer of doc 'Waiting for Superman
• http://twitpic.com/zrjsj – Ready to intv Josh Radnor – dir of 'happythankyoumoreplease'
About
to head out the door for our last full day of shooting here. You can follow along with me all day long at AMC News on Twitter. Do it now to find out who we have coming into the studio today!
Read More