AMC News at Sundance 2010, Day 3 – Leto, Peet, Katzenberg and More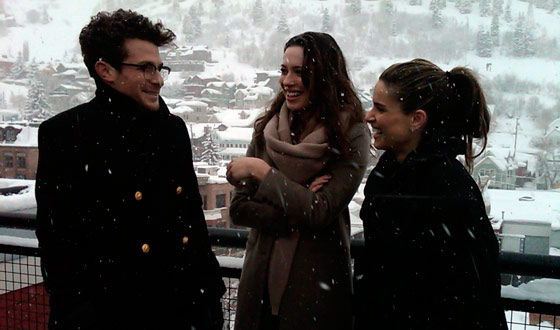 Our third day at Sundance saw the pace pick up considerably as you probably noticed if you were following AMC News on Twitter. We started the day on the roof in the snow, interviewing the cast of Please Give, Nicole Holofcener's fourth movie, which stars Catherine Keener, Oliver Platt, Rebecca Hall and Amanda Peet. Hall and Peet (pictured above) told me this was their first Sundance. They also told me they feel their film is "efficient" in its storytelling, something they said was because of writer/director Holofcener's style. Holofcener has worked with Keener in each of her four films.
We headed back to the studio after that interview, and I sat down with Joseph Gordon-Levitt, director Spencer Susser, and 13-year-old Devin Brochu from the film Hesher (see picture), the story of how a young boy deals with a tragic loss in a "peculiar" way, as Susser said. That peculiar way comes via Gordon-Levitt's title character, Hesher, an anarchist who is not unhappy, but actually comfortable in his unconventional ways, said the actor. Gordon-Levitt also told me that he saw some of himself in the youngster Brochu, who was 12 when they shot this film, an age at which Gordon-Levitt was already a working actor.
Ben Affleck, Rosemarie DeWitt and Chris Cooper came in to our Main Street studio next (see picture) to talk about The Company Men, the feature film directorial debut of John Wells, the creator of ER. The story revolves around Affleck's character, who gets fired from his plush job, and how it affects his wife (DeWitt) and others around him. The three all said that this story is a reflection of the bad economy; Affleck believes tales like this can be "cathartic" for an audience looking to relate their own trials and tribulations to something beyond their own homes. Cooper and Affleck also talked about the tragic earthquake and its aftermath in Haiti and how they were personally affected by it. Cooper said he has been donating funds to the effort; Affleck said he believes the entertainment industry is made up of empathetic individuals who are willing, able, and do what they can to help.
The Haiti message was one echoed by the CEO of DreamWorks Animation, Jeffrey Katzenberg (see picture). Katzenberg is one of the most powerful men in Hollywood and he said Sundance for him is more a mix of laying back and poking his head in than anything else. Katzenberg, an evangelizer of 3D technology, was pleased to hear that there is a 3D documentary at Sundance, Cane Toads: The Conquest (from Participant Media). He said he believes that future Sundance festivals will see more and more 3D films as the technology becomes easier to use. The analogy he used was that the transition from 2D to 3D is the same as from black-and-white to color films.
Without a doubt the most buzzed about interview of the day was with Jared Leto and his band 30 Seconds to Mars (see picture). When we put out on Twitter that the band was coming in, the response was overwhelming. Many of you submitted questions for me to ask the band, so here are their answers: The band's documentary, Artifact, which has been in the works for two years, is about the making of their current album This Is War. Leto told me he wanted to screen it at Sundance but it isn't ready yet, although the first 20 minutes have been delivered to him to review. He also said that he had just come from the Hope for Haiti Now telethon, and that the band, as part of the relief efforts, were auctioning off some one-on-one time with them via EBay (bid here), the proceeds of which would go to the relief effort.
The last time Leto was at Sundance was as an actor in 2007, and he seemed to enjoy having less to do as far as promoting films was concerned. He came to our studio after being out snowboarding, and he left to attend a sound check for a free concert his band was doing at the Park City half-pipe. He said he thought music was so popular at Sundance because it had become a creative "orgy," for which he was happy to contribute a free show. Why free? Because people figure out how to get your music for free anyway these days, he said.
Today promises to be equally as hectic, so stay tuned to AMC News on Twitter for live updates and tune into the AMC News Special: 10 Stories of Sundance on Fri., Jan. 29 at 11PM | 10C.
Read More