AMC News at Sundance 2010: Day 2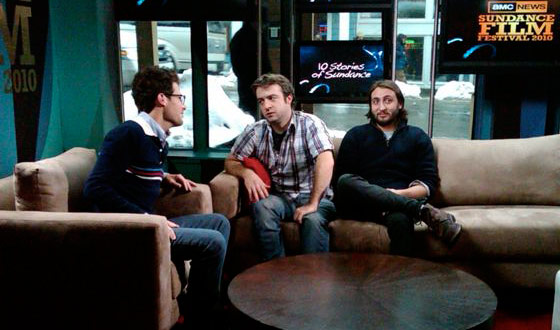 Day 2 at Sundance 2010 is in the can. We had a light day today, but the rest of the trip promises to be hectic. And while the day wasn't particularly jam-packed, the interviews we shot were for two projects getting lots of buzz at this year's festival.
In the morning I interviewed the filmmakers behind the documentary 8: The Mormon Proposition.
The film aims to expose the role of the Church of Jesus Christ of Latter-day Saints in the passage of Proposition 8 in California, which banned same-sex couples from marrying. Screenings sold out all before the festival even began. This film and its in-depth reporting has inspired a large outpouring of both support and opposition. Co-directors Reed Cowan and Steven Greenstreet told me that today, before our interview, they received a fax that was sent to over 100,000 people in an attempt to discredit the film. We were looking at a copy of the fax in our production office this afternoon, and it describes the film as "an act of hate." You'll see the fax during our AMC News Special: The 10 Stories of Sundance on Fri., Jan. 29 at 11PM | 10C.
This afternoon the guys behind the Drunk History shorts, Derek Waters (pictured, to my right) and Jeremy Konner came by to talk about the two shorts they have at the festival this year. Drunk History started as an online video series where a drunk person tells a story of historical significance, and then their drunk ramblings are used as lip-sync tracks for famous actors to renact these historical scenes. At the festival, the Drunk History films tell the stories of Frederick Douglass and Abraham Lincoln, and Nikola Tesla and Thomas Edison. John C. Reilly, Will Ferrell, Don Cheadle, Zooey Deschanel and Crispin Glover star in the shorts, which the filmmakers told me got a good reception at their first screening this morning. Waters said that the comments were of a different variety than the stuff they normally see on YouTube. The shorts will debut on HBO later this year.
For more updates from the AMC News team at Sundance, follow us on Twitter and tune into the AMC News Special: The 10 Stories of Sundance on Fri., Jan. 29 at 11PM | 10C.
Read More