AMC News at Sundance 2010: Day 1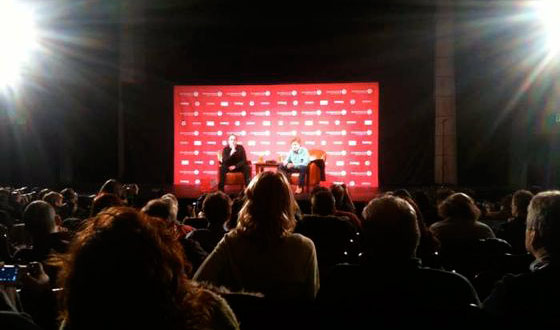 Yesterday was day one for your AMC News team at Sundance 2010, and it was all about getting ready for day two. And three. And four. And so on. I took the above photo from my seat at the opening day press conference featuring festival founder Robert Redford (right) and first-time festival director John Cooper (left). I covered the press conference live on Twitter. If you missed it, here were some of the highlights, just as I tweeted them:
At @SundanceFest opening press conference. 1600 volunteers here Redford says.
Redford says docs are here from all over the world & tell stories not being told in traditional media as newspapers decline etc.
John Cooper @sundancefest dir says the festival sending films across USA after the fest
Some films this year opted in to be streamed online during the fest says @sudancefest dir.
Redford on criteria: Is work interesting? Fresh? New? Break ground? Social activism.
Redford: my own country really really fascinates me. Working on film about Lincoln assasination.
John Cooper talking about more horror, budget & genre films in @sundancefest this year.
John Cooper: more filmmaker working with low budget this year for obvious reasons.
Redford: I don't see all the films during @sundancefest because busy with commitments.
At the end of the press conference, I sent out this tweet, the first piece of breaking news from Sundance 2010:
Paramount Vantage acquires rights to Davis Guggenheim's new doc about the in public education in the U.S from @takepart
There will be lots more news coming out of the festival, not to mention scores of AMC News interviews with actors, directors and other influential folks at the fest in Park City, Utah. For a sneak peek at the set we'll be shooting on for the AMC News Special: Sundance 2010, airing Fri., Jan. 29 at 11PM | 10C, click here. And check back here daily and follow me on Twitter for my latest on-the-ground observations from Sundance. We'll get into the good stuff — the films themselves — tomorrow.
Read More