Western Remakes – The Good, The Bad, and the Should-Never-Have-Been-Made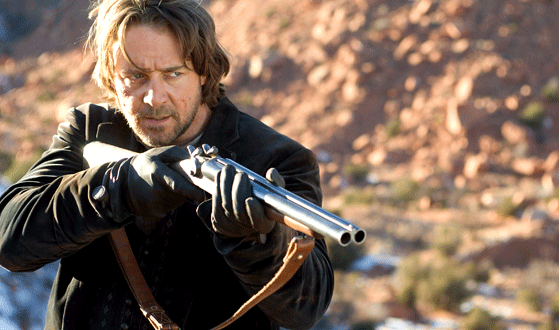 Let's be honest: Sometimes it can be hard to tell Westerns apart. In the worst cases, they feature the same
bag of recycled themes rearranged by a posse of filmmakers —
bank robberies! Indian attacks! Barroom brawls! Which begs the question: Why do a remake at all? Ah, but turning to classic material always holds a certain allure. Of course, while some movies have eluded the curse of the remake, others have fallen victim to its pitfalls. Here's a roundup of some notable reboots.

True Grit (2011)
This may be jumping the gun, but it's too irresistible not to bring up: The Coen brothers are revisiting the dog-eared Western that earned John Wayne his Oscar, and taking the Duke's place in this upcoming production is none other than… the Dude. On a once-over, it seems Jeff Bridges is more than equipped to play the irascible Rooster Cogburn, and the Coens assuredly have tricks up their sleeve. Western purists who might cry foul about meddling with the magic of the original would do well to remember its ill-advised sequel, Rooster Cogburn, with eyepatch fetishist Katherine Hepburn cast as Rooster's love interest. Yuck.
3:10 to Yuma (2007)
One paradox of remakes is that they're sometimes made from movies long
since forgotten by contemporary audiences. That was certainly the case
with 2007's 3:10 to Yuma,
which takes as its source material the hard-boiled 1957 Western, a
movie ahead of its time in blurring the line between hero and villain.
Yet unfamiliarity with original also gave the 3:10 remake an
edge: Audiences didn't come into the movie with preconceptions. And the
casting of Russell Crowe and Christian Bale as the dueling heavies
didn't hurt.
Ned Kelly (2003)
Ned Kelly is an Australian institution — the Down Under counterpart to
such outlaws as Billy the Kid and Jesse James. So, 1970's Ned Kelly
must have surely rankled, starring as it did Englishman Mick Jagger as
the bushranger icon. The 21st-century take on the Kelly Gang was a
welcome corrective then, at least from a casting standpoint. While
2003's Ned Kelly wasn't exactly a remake — it was based on a
novel while the '70s version sported an original screenplay — it did
have the good sense to cast genuine Aussies Heath Ledger and Naomi
Watts in the lead roles.
High Noon (2000)
The most prominent issue we face with this made-for-TV movie is: Why? Sure,
it's relatively faithful to the original and Tom Skerritt — who takes
on the Gary Cooper role — has always been an underutilized actor. But
lightning rarely strikes twice, especially if you're not bringing
anything new to the table. For a far more successful High Noon, you'd do better to turn to Outland — Peter Hyams' stylish scifi reworking of the premise with Sean Connery as our incorruptible lawman.
The Shakiest Gun in the West (1968)
Don Knotts is an American treasure. Surely, it's Don Knotts' je ne sais quoi that makes The Shakiest Gun in the West a winner. A remake of Bob Hope's Paleface,
Knotts adds a delightful nervous quality to his role as a
dentist-turned-gunfighter in the Wild West. And those bulging eyes!
That fidgety frame! (What is Steve Buscemi, after all, but a younger,
more reserved version of the skittish Three's Company star?) What more could you ask for?
El Dorado (1967)
Ah, the heady days before video, when director Howard Hawks could
plagiarize from his own movies and trust the audience not to notice.
Fans of Rio Bravo
will be beset by a sense of deja vu with this Western flick, in which
John Wayne again must redeem a drunken lawman (Robert Mitchum here,
Dean Martin in Rio Bravo) while fighting outlaws with the help of young gunslinger (James Caan here, Ricky Nelson in Rio Bravo)
and an old coot. Hawks didn't even change the names that much! All the
same, it's an awfully good movie and Hawks went on to steal from the
scenario for his ensuing pic Rio Lobo. A bemused John Wayne is said to have asked, "Do I get to play the drunk this time?"
Stagecoach (1966)
Stagecoach has the feel of a play that might pass through the
vaudeville stages of mining camps in the 1850s. It's made of sturdy,
dependable stuff and, as horse operas go, it's got plenty of potential
for encore performances. Made
early in John Wayne's career, the 1939 original didn't put all the
weight on his star presence. (He didn't even make the marquee!) Rather,
its star was a finely-tuned story and a strong ensemble of Western
characters. The 1966 remake does the original proud by offering some
new angles on an old tale.
Destry Rides Again (1939)
That's right, Jimmy Stewart's classic Western spoof was
little more than a bastard child. And it wouldn't be the last: It was followed by 1954's Destry, with Audie Murphy in the title role, and a television series a decade later. So what of the original Destry Rides Again?
That came out in 1932, starred B-movie legend Tom Mix, and bears little
of the charm or ingenuity of the remake. After all, who can match
Stewart's aw-shucks charisma or the sparks that flew between him and
co-star Marlene Dietrich?
Click here for a full schedule of Stagecoach showings on AMC.
Read More