Web Stalker – Will Frozen Be Jaws for Skiers?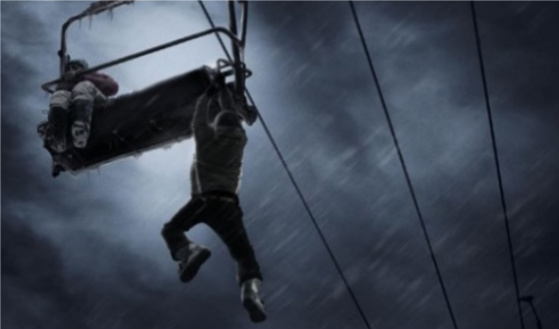 Happy holidays, horror fans! Without casting any aspersions on the state of your personal affairs, should you find yourself in need of something to look forward to, 2010 is shaping up to be a good year for horror fans. Actually, make that pretty great: From Daybreakers (which opens theatrically next week) straight through to the April unveiling of Piranha 3-D, there are plenty of movies to keep things lively. And one flick that should be circled on your calendar in red is Adam Green's stuck-on-a-chairlift thriller Frozen.
You're forgiven if that description leaves you a bit, well… cold (har!). There's no denying that the premise feels like something scraped from the bottom of the empty ideas jar. But a few key elements have ensured that Frozen has maintained an impressive level of buzz over the years. All eyes on the Internet, please…
Back in 2006, director Adam Green was a newbie with one middling indie comedy (Coffee & Donuts) under his belt. But he did a genre 180 for his next effort, the throwback slasher flick Hatchet, which instantly established him as a talent to watch. "Breathe in horror fans!," trumpeted DreadCentral's review, "Know what that is? Fresh f**king air!" "Hatchet is an authentic trip back to the '80s that will have you asking yourself "what the hell happened to our beloved genre over the past 20 years?" agreed Bloody-Disgusting. ShockTillYouDrop rounded things out with a DVD review that enthused, "Hatchet…isn't meant to recreate the bygone films that inspired it — just to remind us of what we like about them."
Mainstream reviews were solid, though less gushy. But then, mainstream critics aren't exactly known for their ability to predict horror fan adulation.Unfortunately for Green, his next effort, the psychological study Spiral, failed to make so triumphant a mark. But if the buzz percolating around his latest effort Frozen (dude really keeps his titles concise!) is any indication, he's gotten his groove back. ShockTillYouDrop debuted the first official poster a few weeks back, and gave ye olde horror fans a concise "the story until now…" reminder: "In 2007, writer-director Adam Green kept you warm with fresh, spilled blood in his slasher throwback Hatchet. Later, he screwed with your head in Spiral. Now he wants to chill you to the bone with Frozen…"
Chud's reaction to the "stunning" artwork pretty much sums up the consensus: "It's a pretty great poster, and would be perfect if not for Brad Miska's quote. Come on dude — the Jaws line?" (Can you guess what he said, fair reader? That's right: "Will do for skiing what 'Jaws' did for swimming!" Sigh.)
Sometimes those critics' quotes really do more harm than good. Luckily, AICN's Harry Knowles threw his annual "Butt-Numb-A-Thon" that same weekend; Green popped in to screen the forthcoming movie, and the crowd went wild! "It doesn't take long for Frozen to start throwing punches, and the audible reactions from the audience were a clear indication of how potent the film is," enthused BrutalAShell. "To say that Frozen is a stressful and intense film is an understatement." Fellow attendee Cinematical concurred. "Frozen is a sparse, white-knuckle thriller, similar to survival horror fare like Open Water, but with a little more for the actors to work with… The story is so simple, but Green absolutely nails the follow-through."
If you're looking for more evidence, nearly every blogger present (including Knowles himself) gleefully reported that at least one audience member was so overcome by the movie's intensity that she fainted and had to be removed from the theater. Is Web Stalker the only one whose curiosity has just officially been piqued?
For those in further need of convincing, an official trailer has just hit the web. Check it out at your own peril! Slashfilm, who "loved" the movie, and calls it "the type of film which will make you scared to ever ride a chairlift ever again," also cautions that it contains major spoilers. Judging by the irate commentators over at Bloody-Disgusting, he's on the mark, though Web Stalker wouldn't know — all talk of spoilers makes us run the other way. Happily, other bloggers have done the legwork, and report that the trailer is, variously, "really freaky," and "sure to send a chill through your bones."
See you on the slopes!
Read More