Web Stalker – Sneak Peeks of Piranha 3D Cause a Nostalgic Fan Frenzy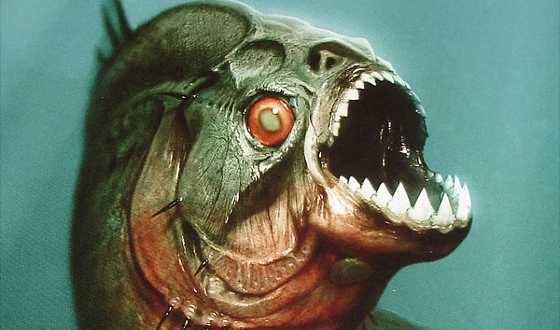 Piranha 3D Cause a Nostalgic Fan Frenzy" width="560″/>
Ah, Piranha. That ridiculous — or is it ridiculously awesome? — relic from the camp-loving '70s. If the blog buzz building around the remake of Joe Dante's 1978 Jaws spoof isn't enough to stir up a whiff of nostalgia in that gore-loving heart of yours, it's hard to imagine what will. The horrible special effects… the sped-up chomping to distract you from the horrible effects… and, of course, that infamous exchange: "What about the goddamned piranhas?" "They're eating the guests, sir."
Ha! In any event, Web Stalker is apparently not alone in having fallen for Piranha's schlocky charms, as the brothers Weinstein have bravely pushed ahead with the Alexandre (High Tension) Aja's-directed adaptation they announced back in 2006. And now, in the wake of the mess o' buzzy bytes their company has released over the last few weeks, things are finally starting to heat up on the flick. Read on at your peril…
Back in February '08, Cinematical did a great job of recapping the movie's early progress: "In 2006, Joe Dante told us it was coming. In 2007, we learned of the French [Alejandro Aja] connection. In 2008, I'm telling you that it will be in 3-D. In 2009, we will have a new movie called … Piranha!" And yes, that's pretty much how it went down. But though the horror-loving world was aware of the project from the start, it wasn't until the announcement that Aja was directing that the blogosphere pricked up its collective ears. Sort of… let's just say that the overwhelming reaction was a resounding "Eh."
"I'm not too familiar with the original film…," mused FirstShowing. "But this honestly sounds like another boring filler film. It was a parody to begin with, and a remake will [not] only make it more modern, but either a parody or a very cheesy horror/thriller — either way I don't think it looks good…" DreadCentral was wishy-washy as well: "Aja plans on making the film a horror/comedy like the original, which is almost a shame as I'd love to see him tackle it as a straightforward horror film. He did say he wants to pay homage to all the creature films that made him 'fall in love with the genre,' and I just hope he knows that the genre loves him right back." Meanwhile, lively discussion over on the genre-obsessed Horror.com messageboards included comments ranging from, "Could be interesting, but it seems like a step backward…," to "Really, though, does Piranha need to be remade?"
Of course, all that chatter was prompted by early news of the project, when it was still in the "but will it actually make it to theaters?" phase. Then Aja signed on some cheekily-cast stars — Elisabeth Shue! Eli Roth (billed as Wet T-Shirt Contest Emcee, no less)! Shark-buster Richard Dreyfuss! — and set about making his vision a reality. Earlier this month, DreadCentral released the first photos from the movie, and the Pavlovian response to all that blood has been overwhelming.
FirstShowing is particularly stoked. "Now this is starting to look good… There aren't any shots of any piranhas yet (awww!), but there are some cool shots of the bloody lake, some bikini-clad girls, and Richard frickin' Dreyfuss… Hell, I'd go watch this movie right now based off of these photos…looks so epic!" HorrorYearbook, meanwhile, seized on a wide shot of the mayhem, saying, "I'm only posting this picture because it's just havoc in a single frame." Even Bloody-Disgusting jumped into the fray, confessing, "How quickly the hype behind a film grows. I went from delivering a series of deep sighs to being off-the-chart excited over the course of the past few months."
And there wasn't even any blood in those pics! No, unearthing the goriest Piranha shots to date fell to ScreenRant, who attached the codicil, "I'm going to warn you now, if you are easily offended or disgusted by over-the-top blood and gore then by all means DO NOT CLICK ON THE FINAL THREE PICS OR PAGE 2!" Friends, he wasn't exaggerating. The first is of a severed leg that appears to have served as piranha lunch. The second shows some poor sap whose chest appears to have gone half missing. And the third shot is of a victim so bloody and butchered that it's hard to tell just what has gone down.
Needless to say, appetites have been whet! And now ShockTilYourDrop chimes in with a report from a rough-cut screening that took place in New Jersey last week. "Alexandre Aja's Piranha 3-D marks a fierce return to form after the director's lackluster Mirrors," the review gushes, continuing, "Even in its two-dimensional nascent state, with glossy, unfinished fish, the movie delivers as an exercise in excess…. Think Joe Dante meets Roland Emmerich, and you'll have a pretty good idea of what to expect from Piranha 3-D's soon-to-be infamous marina massacre, a lengthy, literal bloodbath with thousands of chomping piranha feasting on half-naked partyers." And perhaps most promisingly, he also remarks, "Piranha 3-D is packed to the gills with laughs."
Laughs, gore and party animals in bathing suits… ladies and gentlemen, could it be time to head back in to the water?
Read More