Web Stalker – Natalie Portman Fuels Fanboy Fantasies for Jane Austen Zombies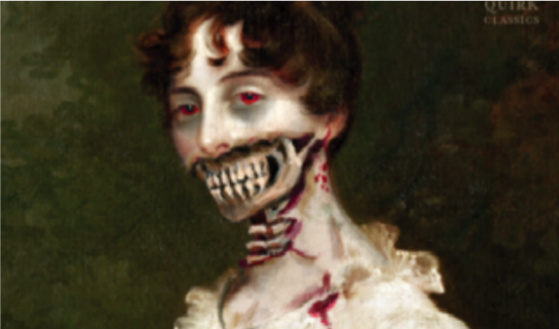 Zombies, zombies, zombies. So many filmmakers are rushing to cash in on the success of the Twilight juggernaut that it seems every second movie has some blood-sucking/flesh-chomping slant. The hungry dead are the horror genre's spotlight-hogging Marcias to its untrendy Jans, and this week is no exception, what with a big would-be blockbuster stealing every other movie's virtual ink.
Have you somehow missed the frenzy surrounding Pride and Prejudice and Zombies, Lionsgate's entry into the period-movie zombie-flick genre? Actually, let's make that Lionsgate's inauguration of the period-movie zombie-flick genre. In any event, there will be no ignoring the forthcoming adaptation now that one Natalie Portman has signed on to star and produce. Yes, you read that correctly: Natalie "Padme Amidala" Portman.
Was it only April of this year that Pride and Prejudice and Zombies, Seth Grahame-Smith's unlikely mash-up of Jane Austen's brilliantly subtle dissection of 18th-century social and cannibal-zombie gut-crunching was published? At the time it hardly seemed a blockbuster in the making, but within days, the book seized the number three slot on the New York Times best-seller list, and studios had already come calling!
"Grahame-Smith, author of How to Survive a Horror Movie, has done something warped — and possibly brilliant," wrote ShockTillYouDrop. "He has taken Jane Austen's 'Pride & Prejudice' and added all-new scenes of flesh-eating zombie action… Of course, we hope for nothing but the best should Grahame-Smith's take on this tale get optioned." The project piqued the curiosity of many a horror blogger, but commentators' reactions were mixed. "This may be the best idea I have ever heard," spoke the pro-PP&Z camp. "It may actually make Jane Austen readable." "And the zombie genre jumps the shark," snarked another. "Was Steel Magnolia Zombies taken?"
Natalie Portman's name was on bloggers' lips even then, but it wasn't until this past week that the official word came down that she was going produce and star in the adaptation, working with Donnie Darko director Richard Kelly (as co-producer) no less!
First a Twitter feed titled "PrideAndZombies" announced that the book would be given the miniseries treatment. Not so, reported ShockTillYouDrop, after checking in with author Grahame-Smith. "There's NO TRUTH to those PPZ 'miniseries' rumors floating around on the Internet," he announced. "I have no idea who controls the 'prideandzombies' Twitter account, but rest assured — it ain't me. The plan has always been to make the book a feature film."
And he wasn't lying! With Portman attached to play the lead, Elizabeth "zombie slayer" Bennet, there's no question you'll be seeing this one in theaters. The MTV Movies Blog, for one, is feeling lukewarm. "I have to say, I'm not terribly confident in this idea. The book is great fun to read… I'm just not sure it's something that will translate to the screen. The risk here is that we'll end up with nothing more than a period zombie flick." If those words inspire doubt in your heart, then perhaps the rabid enthusiasm expressed by nearly every other horror blogger on the planet will calm your nerves.
"In my perfect fantasy, there's a one in three chance that Natalie Portman would be involved (also Danielle Harris). I've wanted Nat to cross over to horror and try out our genre for sometime now. Looks like I might get my wish," rhapsodizes HorrorBid, who's apparently on a nickname basis with the ingenue. "Natalie Portman is taking her career to a whole new level of awesomeness!," trumpets Limelife; "if this doesn't sound like the ultimate date movie, I don't know what does. You got yer zombies and action for the fellas, and you got yer romance and kissie-faces for the ladies."
The FilmStage took things in a slightly icky, oversharing direction, saying that, "[s]omething about Natalie Portman in 19th-century English attire (a tattered corset perhaps?) slaying zombies makes me feel all giddy and tingly in a way that let's just say I probably wouldn't explain to my grandmother." Can I uncover my ears now? About.com's Horror Blog, meanwhile, announced the news in a post titled, "Natalie Portman + Zombies = Fanboy Epileptic Seizures." So, it's safe to say that the horror community is embracing this one with open arms. Inside Pulse Movies takes the natural next step, musing, "… the question everyone wants to know is: Who will play her Darcy?" To date, the only suggestion is Shaun of the Dead's Simon Pegg… but I just know Web Stalker readers can do better. Leave your suggestion in the comments field below — you never know who might be reading!
Read More