Transylmania Review – A Grosser, Bawdier, Better Scary Movie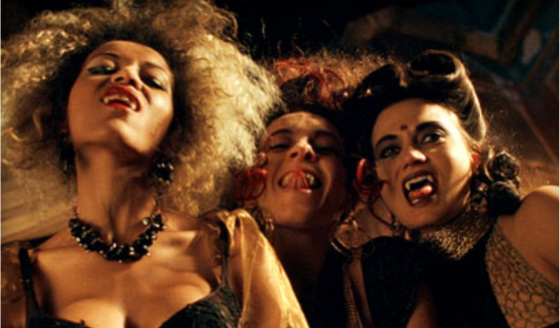 Transylmania Review – A Grosser, Bawdier, Better Scary Movie" width="560″/>
Transylmania, which reunites the creative team and principal cast (and characters) of National Lampoon Presents Dorm Daze and Dorm Daze 2, is a better horror spoof than all the installments in the Scary Movie franchise combined. Granted, that's a sign of how low the bar has been set for contemporary movie parodies, since Transylmania is vulgar, juvenile, gross and not particularly funny. But it at least tells a story rooted in bona fide horror movie cliches rather than stringing together a random series of witless pop-culture gags.
Frustrated college horndog Rusty (Oren Skoog) is desperate to meet Romanian hottie Draguta (Romanian model-turned-actress Irena A. Hoffman), his cybersex dream girl, so he signs up for a semester abroad at Razvan University, located in the heart of her haunted homeland. Rusty persuades all his wacky pals to come along: Insecure Newmar (Tony Denman) and his girlfriend, lusty airhead Lynne (Jennifer Lyons); stoners Wang (Paul H. Kim) and Pete (Patrick Cavanaugh); Pete's studious girlfriend and her slutty twin, (real-life twins Natalie and Nicole Garza); nerdy Mike (Patrick Casey), and weirdo Brady (Joshua "Worm" Miller); all but the Garzas are reprising their Dorm Daze roles.
Razvan turns out to be more fun than a cheesy horror-movie triple feature, what with Dean Floca (David Steinberg) being a sinister dwarf (you can tell by the way his hair is twisted up into little devil horns… that and the torture chamber in his basement), and Draguta turning out to be a sex-crazed hunchback. Leather-clad professor Teodora van Sloan (Musetta Vander) slings swords, crossbows and wooden stakes with maniacal abandon, while the locals abduct tourists and stage Most Dangerous Game-style man hunts. Not to mention vampire lord Radu, who has returned to Razvan after a hundred-year absence, and is scheming to revive his long-dead lady love.
Directors Scott and David Hillenbrand dutifully sing the praises of Young Frankenstein, but the only evidence of their Mel Brooks admiration is a joke that hinges on horses farting whenever anyone says "Razvan." Otherwise it's all gross-out gags involving body cavity concealment, mangled manhoods, vomit, geysers of blood, sexual acrobatics and flying body parts. Transylmania was tailor-made for late-night, post-frat party viewing through a haze of mind-altering substances. Stone-cold sober it's a tedious slog through stale jokes that feels much longer than its 95-minute running time.
For more reviews, visit AMC's Filmcritic.
Read More