Uncategorized
Flashback Five – Chevy Chase's Greatest Movie Moments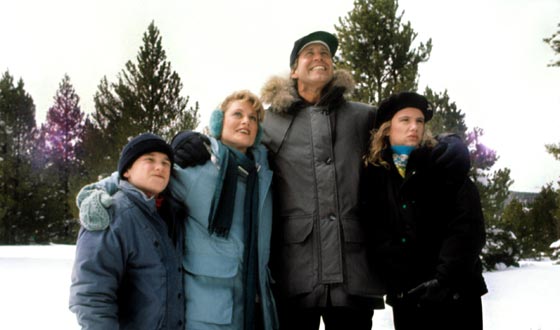 He's gone on vacation — a lot. He's solved mysteries as Fletch. And he was a heavenly dog, though best to ignore that for the moment. He's one of the greatest comic actors of our time. He's Chevy Chase… And you're not. Let's take a look back through some of his cinematic triumphs, and — dare we say it — some of the funniest movies ever:
1. ¡Three Amigos! (1986)
…And here's a great one to start with. One of the few perfect comedies in existence, it casts Martin Short, Steve Martin and Chevy Chase, all in their prime, as down on their luck actors who end up saving a small town in Mexico. If you've only seen the might-as-well-been-a-remake Tropic Thunder, you've missed out on Chevy Chase's perfectly clueless performance as Dusty Bottoms.
2. Spies Like Us (1985)
There are actually two Chevy Chases… The clueless, bumbling idiot who trips over everything, as seen in Three Amigos, and the smarmy ladies-man seen here opposite fellow sarcasmotron Dan Aykroyd. Chase is pitch perfect as a Pentagon pencil pusher who accidentally ends up almost causing World War III. A perfect comedy for the Cold War era, it's just as hilarious today.
3. Fletch (1985)
The smarm hits its apex in the Fletch series,
in which Chevy Chase takes Gregory McDonald's wisecracking TV character
to the big screen. This movie was so popular, and has so thoroughly
invaded popular culture, that almost every TV detective's "trademark"
snark, from the mopes on Law & Order to the flashy agents of CSI, has DNA in common with Chase's Fletch. A must-watch.
4. National Lampoon's Vacation (1983)
The
original is still the best — and nowhere else are Chase's abilities
put to such good use as when he's playing Clark Griswold. Barely
holding together his family on a cross-country trip to Walley World,
Chase makes it completely believable that he would tie his dead aunt to
the top of his car, accidentally kill a dog and not care, or pull a gun
on a Walt Disney stand-in.
5. Caddyshack (1980)
The movie that broke Chase into the mainstream, this golf comedy is so
chock-full of talent it's surprising that Chase stands out at all… But
he does, anchoring the movie, oddly enough, as the romantic lead.
Luckily for Chase, the sappy romantic stuff mostly falls to young
caddy-with-a-dream Michael O'Keefe, allowing Chase to steal scenes as
the kooky, trick-shot-loving golf pro Ty Webb.
Honorable Mentions:
1. Orange County (2002) –
This lost gem got over-shadowed by a slew of similar teen comedies, but
Chase is hilarious as the high school principal to Colin Hanks' college
reject.
2. Dirty Work (1998) –
Another lost comedy, Norm McDonald's hilariously disgusting flick
features another great supporting performance by Chase as — deja vu?
— a bumbling doctor.
3. Memoirs of an Invisible Man (1992) – Chase was unfairly lambasted for this action/comedy hybrid, which is actually pretty good in retrospect! As the invisible yuppie at the heart of the story, he proves he's capable of more than just easy laughs.
4. Nothing But Trouble (1991) –
Chase puts in a surprisingly grounded performance in this
cultishly-adored comedy, in which he stars as a wealthy bachelor
thrown into a bizarre house of horrors by a mean old judge.
5. Christmas Vacation (1989) –
Not even technically a vacation (which is why there are two of these on
the list), Chase made the goofy — and sometimes mean — Clark Griswold
into the irresistible heart of one of the best Christmas movies ever
made, hands-down.

Read More