The Wrestler to Face Twilight for the Best Song Grammy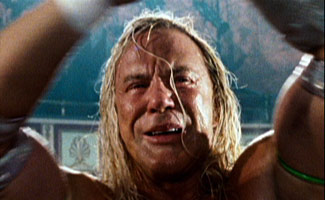 The beauty of the Grammy Awards is how the most unlikely contenders end up facing off against each other. Case in point: In this year's race for Best Song, Bruce Springsteen's "The Wrestler" from the movie of the same name finds itself against tween-friendlier hits "Decode" from Twilight and "The Climb" from Hannah Montana: The Movie. If "The Wrestler" sounds familiar as a nominee, it could be because it was also an Oscar nominee last year. Grammy eligibility periods are staggered differently than the Oscars which leads to some late 2008 theatrical releases ending up in the mix. That means if "Jai Ho" from Slumdog Millionaire fails to topple any of the aforementioned tunes, it can take comfort in the fact that it picked up last year's Academy Award for Best Song.
Twilight actually scored two nominations — the other for Best Compilation Soundtrack. It will compete against Cadillac Records, Inglourious Basterds, Slumdog Millionaire, and because this category includes TV, True Blood.
The Best Score Soundtrack Album race sees The Curious Case of Benjamin Button up against Harry Potter and the Half Blood Prince, Milk, Star Trek and Up.
Up actually pulled in three Grammy nominations, and that
doesn't include the one star (well, OK, lead voice) Ed Asner earned in
the Spoken Word Album for Children category for Scat. Among the other actors up for honors: Carrie Fisher for Wishful Drinking, Michael J. Fox for Always Looking Up, and Richard Dreyfuss and David Strathairn for The Lincoln-Douglas Debates, all in the Spoken Word category.
The 52nd Annual Grammy Awards will be held on Sun., Jan. 31 in Los Angeles. For a full list of nominations, click here to go the Grammy site.
Read More