The Ten Greatest Actors to Star in the Worst Comic Book Movies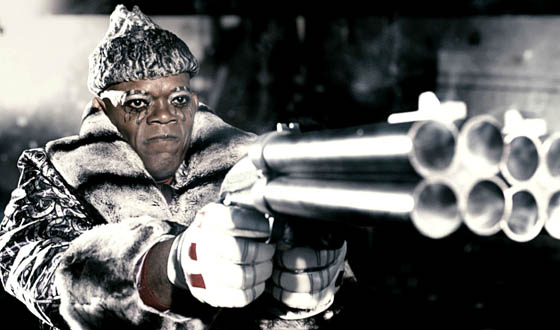 With awards season approaching, my thoughts wander to the great many talented actors in comic book movies these days. Just look at the casting for the upcoming adaptation of the spy thriller comic Red, which features everyone from Richard Dreyfuss to the great Helen Mirren — proof that the genre is no longer a place where top-notch actors slum it for a paycheck. But it wasn't always this way. A great many acclaimed actors have turned up in some of the worst comic book — nay, worst movies — ever made. Take a look at the ten greatest actors who've slummed it in the worst comic adaptations.
Faye Dunaway, Supergirl (1984)


When
people talk about great actors cashing a paycheck in comic book drek,
they usually single out Oscar-winner Faye Dunaway's over-the-top turn in this justly
forgotten Superman spin-off. Casting love spells on random hunks and enjoying leisurely picnic lunches with her twee butler, Dunaway's villainous witch seems to have wandered in from a campy live-action Disney movie. Thanks to Dunaway's performance — which is only a notch lower on the camp meter than her infamous Mommie Dearest role — Supergirl is a perfect addition to any "bad" movie night.
Martin Sheen, Spawn (1997)


Considering he looks exactly like his comic book counterpart, the casting of Sheen as Al Simmon's shady government boss Jason Wynn is a master stroke. But it's the only thing masterful about this irritating, hopelessly dated mess. Watching it now is like making a checklist of bad '90s movie tropes: Dated special effects? Check. Characters spouting "edgy" Tarantino-esque dialogue? Check. John Leguizamo? Check. Stick with HBO's superior Spawn animated series, and pray that Sheen isn't persuaded into returning for the inevitable big screen reboot.
Terence Stamp, Elektra (2005)


The man forever known as General Zod isn't exactly discerning in his movie choices these days, comic book (Wanted) or otherwise (Red Planet). Which explains his appearance here as Elektra's martial arts mentor Mr. Miyagi, er, Stick. Stamp basically takes on the old guy mentor role here, but without Kris Kristofferson's perpetually hung over disposition. Malcolm McDowell probably could've taken over Stamp's role halfway through the movie and nobody would have noticed — that's how forgettable it is. Now if only there was a scene where Stamp made the screenwriter "kneel" before Zod. That would've worth a rental.
Dennis Hopper, The Crow: Wicked Prayer (2005)


You're excused for forgetting about this fourth Crow movie (starring T2's Edward Furlong and Tara Reid), since it's safe to assume that Hopper doesn't remember appearing in it. But there he is, wearing a hideous fur coat as a Satanic cult leader with the unfortunate moniker "El Nino." I'll have to double check with my colleague Anthony Burch on this one, but I'm pretty sure Hopper is the only actor who has played both a comic book and video game villain (King Koopa in Super Mario Bros.). The point is, Dennis Hopper doesn't know the meaning of the word "no."
Samuel L. Jackson, The Spirit (2008)


Jackson seems to be the only person in on the joke in this debacle, turning his Nazi uniform-wearing, egg pun-spouting villain into a camp delight on the level of Vincent Price as Egghead. Jackson is in full-on Snakes on a Plane mode here, delivering an entertaining performance despite near constant costume changes and a less than heroic costar. (Gabriel Macht possesses the rare ability to make one long for Billy Zane in The Phantom.) Perhaps it's time Jackson gave Marvel a ring about that Nick Fury movie.
And five more acclaimed thespians who were stuck in less-than-super comic book ventures:
Ned Beatty, Captain America (1990) – Poor Ned Beatty, who goes from Deliverance to Lex Luthor's bumbling sidekick to getting ditched by JD Salinger's son (who starred as Captain America) in one of the worst comic book movies ever made.
Naomi Watts, Tank Girl (1995) –
Watts, adorable (and brunette) in her first American role, is the only
actor who came out of this train wreck unscathed. (Lori Petty, aka Tank
Girl, hasn't been heard from since.)
William H. Macy, Mystery Men (1999) – Macy's deadpan Shoveler is easily the best part of this broad, messy comedy that's aged about as well as the Smash Mouth song on the soundtrack.
Sean Connery, The League of Extraordinary Gentlemen (2003) – So Connery didn't understand The Lord of the Rings, but he was totally on board with one of the worst scifi movies of the decade? He really needs to come out of retirement and cameo in the next Bond flick lest LGX ends up being his swan song.
John Malkovich, Art School Confidential (2006) – Malkovich's pretentious art teacher provides the few laughs in this Terry Zwigoff/Daniel Clowes collaboration that lacks Ghost World's winning mix of pathos and snark.

Nick Nadel writes for places like HBO and Asylum.com, and is the "geek" blogger for GuySpeak.com. Follow the Comic Book Movies column on Twitter for more superhero news and views.
Read More