The Movie List – Top Ten Santas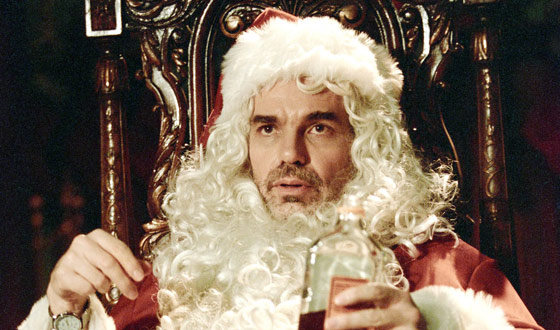 For the holidays, The Movie List is turning the tables on someone who makes a list of their own every year … Santa Claus. He's usually quite jolly, but in Hollywood he's sometimes spiteful, mean, drunk or most alarmingly of all — computer generated. Tonight, we count down the top Santas, both the naughty and the nice.

10. Leslie Nielsen, All I Want for Christmas (1991): What the kids in this movie want is for the guy from Naked Gun to bring them toys in the freezing cold …. and reunite their divorced parents.
9. Ed Asner, Elf (2003): As if delivering presents weren't enough, this Santa finds out his biggest elf (Will Ferrell) has some serious daddy issues.
8. Paul Giamatti, Fred Claus (2007): Even though he's Santa, he needs to turn to his older sibling (Vince Vaughn) for help in a pinch.
7. Jim Belushi, Jingle All the Way (1996): Belushi once co-starred with a dog in K-9, so upgrading to Arnold Schwarzenegger and playing Santa counts as progress.
6. Tom Hanks, The Polar Express (2004): Hanks' role as Santa turned out to be memorable, albeit in a creepy, computer-animated sort of way.
5. Tim Allen, The Santa Clause (1994): After the current Santa is K.O.'d by a comic mishap, Allen becomes Mr. Claus, sort of like the Dalai Lama, only with warmer clothes.
4. Jeff Gillen, A Christmas Story (1983): This Santa gets his jollies not by spreading joy, but by traumatizing small children. As if sitting on some dude's lap weren't bad enough.
3. Edward Ivory, The Nightmare Before Christmas (1993): A stop-motion Santa who gets one hell of a scare when he's kidnapped by an emaciated singing scarecrow.
2. Billy Bob Thornton, Bad Santa (2003): This Santa is definitely on the naughty side of the list. He would happily fill your stocking, especially after he got a few drinks in you.
1. Edmund Gwenn, A Miracle on 34th Street (1943): He just came to spread good cheer, but like a lot of guys who never change their clothes or shave, was mistaken for a vagrant.
Want to rank these (and five other) movie Santas?

Read More