The Movie List – Top Ten Dead Characters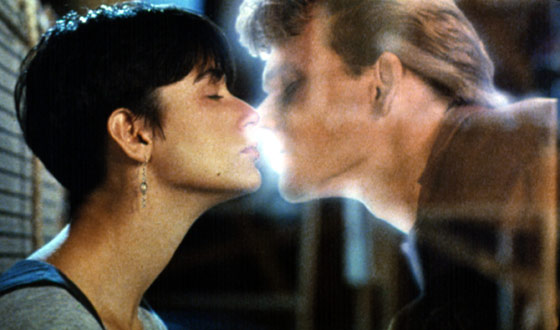 The worst thing that can happen to a studio is to have a movie die at the box office. But what happens when an important character in the movie is already six feet under? This week, The Movie List aims to find out with a countdown of the top ten dead movie characters ever. Whether they're spirits, apparitions, or people stuck between worlds, these characters are vying for the number one spot (and facing some stiff competition in the process).

10. Sam Wheat (Patrick Swayze), Ghost (1990): The role that gave us the most erotic arts-and-crafts scene in movie history was turned down by everyone from Tom Cruise to Harrison Ford.
9. Daniel Miller (Albert Brooks), Defending Your Life (1991): Brooks got his start making short films for Saturday Night Live, but in this role he had to sit through something much, much longer: A replay of his entire life.
8. Pete Sandich (Richard Dreyfuss), Always (1989): Dreyfuss' character dies, leaving the love of his life behind. That's tough. What's tougher is that he has to fix her up with her next boyfriend in order to earn angel wings.
7. Bernie Lomax (Terry Kaiser), Weekend at Bernie's (1989): Bernie's a guy who got a lethal injection from a mobster, was tossed overboard and then shot six times. Did we mention this is a comedy?
6. Elliot Hopper (Bill Cosby), Ghost Dad (1990): Cosby was a successful actor, stand-up comedian, musician and author riding high with the top TV show in America, but not even Dr. Huxtable could breath life into this one.
5. Joe Pendleton (Warren Beatty), Heaven Can Wait (1978): A remake of 1941's Here Comes Mr. Jordan, which was again remade in 2001's Down to Earth, this hard-to-kill story earned Warren Beatty an Oscar Nomination.
4. Jack Goodman (Griffin Dunne), An American Werewolf in London (1981): He was ripped to shreds then had to hang around forever. But the movie did inspire Michael Jackson's "Thriller" video. A small price to pay.
3. Shoeless Joe Jackson (Ray Liotta), Field of Dreams (1989): This inspirational sports movie was originally titled after Shoeless Joe, but was changed when audiences complained it sounded like it was about a bum.
2. Dr. Malcolm Crowe (Bruce Willis), The Sixth Sense (1999): A wedding ring reveals that Willis' character is indeed dead, so throughout this blockbuster the actor's left hand is obscured to ensure a surprise ending.
1. Joe Gillis (William Holden), Sunset Boulevard (1950): Holden's career was dead until the director reluctantly cast him as the murdered narrator. He wasn't the first choice, but he was the right one.
Want to rank these (and five other) dead characters?

Read More