Uncategorized
Q&A – Fergie Packs on Fat (and Loves It) for Nine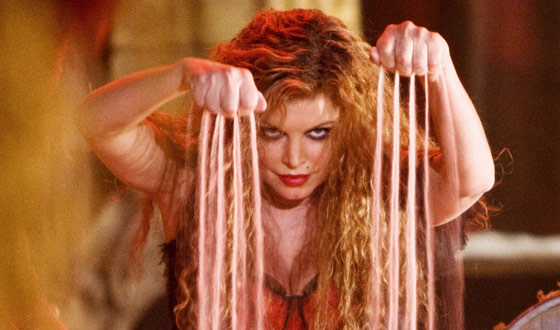 Nine" width="560″/>

8½ plus music makes Nine, or so the math goes for the musical adaptation of Fellini's classic film. This time it's imagined for the screen by director Rob Marshall and a cast of actors whose singing abilities might surprise you — save perhaps for Stacy "Fergie" Ferguson, the one professional singer in the bunch. Fergie plays a prostitute who Daniel Day-Lewis' character Guido remembers fondly, but not for the reasons you might assume. We'll let her explain…
Q: With 8½ and all the stage productions of Nine, you're probably the thinnest Saraghina ever…
A: Hey, I tried! [Laughs]. I gained seventeen pounds for the part.
Q: How? Did you have a diet plan?
A: There was no plan. It was just eating everything that I never
eat, like butter, oil, salt, sugar, fat, all those things, and not
working out. Penelope [Cruz] always had a protein shake and a plate of
pasta, and I would have the full-on milkshake and a cheeseburger. I
would order French cheeses and eat the whole thing and go to bed happy.
It was wonderful! I wasn't very health-conscious doing it. I probably
had high cholesterol by the time we were done filming!
My body's not perfect. It fluctuates all the time, but I have
to really work at it, if I want to be in shape for my shows, fit in
certain costumes. But with this movie, Saraghina helped me with the way I
look at the female body now. She loved her curves. She didn't want to
hide them. She wasn't ashamed of them. Throwing myself into [the part],
I felt that. Some people hate gaining weight for roles, but I fully
enjoyed it.
Q: That method you used, then, fits what Saraghina represents — the indulgence.
A: A lust for life, yeah.
Q: Do you think it's as clear what she means to Guido in Nine as it is in 8½?
A: Well, you see when he's with Carla [Penelope Cruz], he wants
her to put on the makeup like Saraghina, so that's the reference there
— that Madonna/whore complex, and the whore he wanted her to be. He
asks her to be savage, because Saraghina was that, and that was his
first representation of what that kind of woman could be.
Q: But she's not really savage with him — he's a little kid, so she's playful.
A: She's probably done, well, who knows what she's done with the
sailors in that bunker of hers! But for these little boys, it's more
like, "OK, you want to know about this? Here you go." And she's having
fun with it. It's a bit of a tease. These days, they'd be going all the
way with each other. But for that day and age, it's more about the idea
and the little dance that she does that sparks the imagination of these
boys. She's kind of a child herself.
Q: Do you think she's the most truly musical of all these
characters? Beyond the dream sequence numbers, she hums, she dances…
A: Music is a part of her, and music is a part of life. She's
saying, "It's in your blood. Do you know where you come from?" when
she's singing "Be Italian." It's about living life — food and drink
and sex and flirting and love and being macho and all of that. And
that's what she represents, that's what the song represents, and it has
that great build. That's one of the reasons I was dying to be this
character, to let out all the fire inside and let it manifest. I
studied all the old Fellini films, I studied Italian actresses — how
they walked, how they spoke with their hands — to figure out all my
movements. I wouldn't move like myself. I never crossed my legs,
because that's not how Saraghina would sit. She wasn't a lady.
Q: You're also singing in a way that isn't quite like yourself, at least not in a way that we'd expect.
A: It's very robust, almost man-like, very strong. A lot of
songs I've done before haven't called for that, and this brought that
out in me. I remember, the first time I was on set, the first person I
met was Daniel [Day-Lewis], and within fifteen minutes, I was standing
at a piano where I had to belt out the song in front of him. I'd go
back to my dressing room, and I'd find these little notes of
encouragement and support; he'd written them to me as Guido. Like,
"Great job! Love, Guido." They were so cute and charming. But it really
did encourage me. Singing like that was an evolution for me, and I'm
sure it will carry over to my other work. I can't wait to do this song
live.
Read More