Uncategorized
Q&A – Bryce Dallas Howard (Teardrop Diamond) on Delusions, Lobotomies and How Pregnancy Helped Her Get Into Tennessee Williams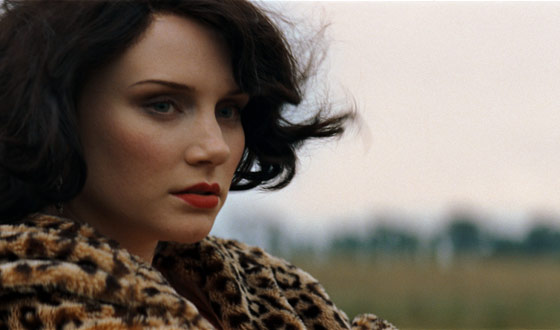 Teardrop Diamond) on Delusions, Lobotomies and How Pregnancy Helped Her Get Into Tennessee Williams" width="560″/>

It's not every day that an actor gets to originate a character from a Tennessee Williams script, but with the resurrection of the The Loss of a Teardrop Diamond, Bryce Dallas Howard gets to do just that. Originally conceived as a movie for Elia Kazan to direct (following A Streetcar Named Desire and Baby Doll), the screenplay was abandoned for some 50 years. Howard talks about playing the part of the fragile Fisher Willow…
Q: In what way would you say Fisher Willow is like Blanche DuBois?
A: Blanche is not so out there. I mean, she's an exquisite speaker, she has very nuanced emotions, she has a deep soul. She's just very deluded. And I thought Fisher could really go that way. Thinking of her in those terms, that's what really raised the stakes for me for the character, because I could see her future, what she's fighting against..
Q: Tennessee Williams based some of his female characters — including Blanche, and perhaps even Fisher, on his sister Rose…
A: … who had one of the first lobotomies in North America,
yeah. That's the idea of it. The tragedy of it. Fisher so yearns to go
to Europe and be surrounded by artists, and then when you hear she did go to Europe, and was surrounded by artists, but lost herself, its like, "Wow, she doesn't fit in anywhere."
Q: Why do you think she's never able to explain what losing that teardrop diamond earring really means to her?
A: The earrings are worth ten thousand dollars, and ten thousand
dollars back then was probably equivalent to several hundred thousand
dollars. But you're right, it's really, really important to her for
more than that, and she's obviously very worked up, but it's a
subconscious anxiety; unless she were in therapy, she wouldn't
understand the connection. She just knows she has to find them, but
she's not self-aware enough to say, "Stop everybody! My entire life
will fall apart if I don't find these earrings!" Because she has too
much pride. And she feels alone, like no one would understand.
Q: How tricky is it to play someone whose sanity is so tenuous?
A: It's all in the language. In a lot of the other films I've
been in, not a lot is expressed in the words. You have all these
thoughts, and then you have to put them in these truncated sentences
you're speaking, and that's the challenge. And in this, she's verbose,
she's spewing dialogue, and that's a huge help.
It was kind of
extraordinary that [director] Jodi Markell cast someone who was nine
months pregnant. That doesn't happen. And I wasn't one of those slim
pregnant ladies — I gained 75 pounds. We shot the film shortly after
my son's birth, and that helped Fisher have a voluptuous presence about
her. I really like it when you fully believe that it's taking place in
the 1920s, and not be distracted by how ripped the actress is.
Q: Kazan was originally slated to shoot this after Baby Doll. What do you think his version would have been like?
A: Tennessee had developed the material for Kazan, so this was
the shooting script. He wrote like a director, and he was very
specific. Jodi didn't want to have a style that would be too jarring
for Tennessee fans, she wanted it to fit in his canon, and so she
struck a wonderful balance in creating a film that was reverent of what
he wrote in 1957, while also being something that can appeal to a
modern audience. It helps that the writing is timeless.
Q: Fisher has a heavy weight on her shoulders, thanks to her dad. Did you relate in any way?
A: I can imagine it. I don't want to mess up what my dad [Ron
Howard] created. I didn't want to disrespect his integrity by drinking
underage, or cutting class on senior cut day, or doing what normal
teenagers do. I don't break the rules. But It's not a burden. It's an
honor to be his daughter, while Fisher has to overcome the legacy of
her father.
I'm actually working with my dad on producing a Gus Van Sant
film right now, written by a friend of mine, Jason Lew. I was
developing it, and it got to a certain point where people were
interested in it, and one of those was my dad's production company,
Imagine Entertainment. And I thought, "This an easy choice!" [Laughs].
It was originally called Of Winter and Water Birds, and then Restless, and now it's just Untitled Gus Van Sant Film.
But I think once we're finished putting it together, the right title
will emerge. My job at this point is to stand back and let Gus do his
magic.
Read More