Now or Then – The Lovely Bones or Ghost?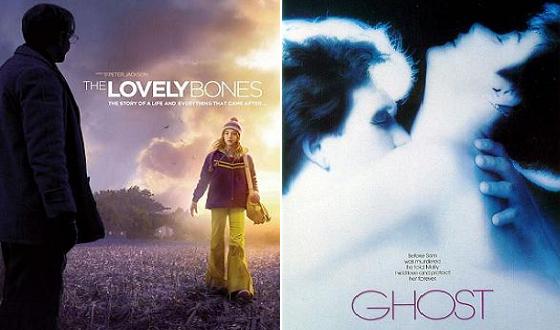 The Lovely Bones or Ghost?" width="560″/>
Now: The Lovely Bones (2009)Then: Ghost (1990)
Granted, Peter Jackson's adaptation of Alice Sebold's afterlife-coming-of-age-fantasy-cum-serial-killer-thriller The Lovely Bones would seem to have very little in common with Jerry Zucker's swooning 1990 romance Ghost. Well, aside from the fact that they're both about what happens to their characters after they die, of course. But if you look closer, you realize that these two movies share a lot more in common than just a basic premise. Here's our comparison.
Bonding via Hobbies
The Lovely Bones: Susie Salmon (Saoirse Ronan) and her father Jack (Mark Wahlberg) share a gentle moment early on as he pursues his hobby of building ships in bottles. After she's dead, Susie tries to connect with her father through a candle placed over a ship-in-a-bottle.
Ghost: Lovers Sam (Patrick Swayze) and Molly (Demi Moore) famously share an intimate moment over a pottery session. After he's dead, Sam attempts to connect with Molly again after seeing her working away at her potter's wheel.
Dead or Alive?
The Lovely Bones: After she's kidnapped by her creepy neighbor
George (Stanley Tucci), Susie attempts to flee his clutches. She then
escapes his lair and sprints down the street, but when she sees her
father looking for her, she realizes she's no longer alive, and that
she left her body back in George's lair.
Ghost: After he gets shot by a robber, Sam runs off in pursuit
of the man. After he comes back and sees Molly weeping over his corpse,
he realizes that he's no longer alive.
The Bad Guy, Lurking
The Lovely Bones: After Susie's sister begins to get suspicious of him, George begins to plan a way to hunt her down as well.

Ghost: Sam's colleague Carl (Tony Goldwyn), who's actually
behind the killing, begins to realize that Sam's spirit is still
around, and he threatens to kill Molly as well.
The Conduit
The Lovely Bones: Weirdo dark-haired outcast poet chick Ruth
(Carolyn Dando) sees Susie right after she's been killed, and can sense
her presence afterwards.

Ghost: Weirdo con artist Oda Mae Brown (Whoopi Goldberg) claims
to be able to speak to the dead. After overhearing Sam's ghost,
however, she realizes that she actually can.
Unfinished Business en Route to Heaven

The Lovely Bones: Susie resists the call to go to heaven because
she's too preoccupied with making sure the family she left behind is
going to be OK.

Ghost: After he discovers that he's died, Sam avoids the
celestial light that comes to take him to heaven because he's too
preoccupied with making sure Molly is OK.
Read More