No Need to Panic Over Holiday Pounds When Hollywood Provides Thin-spiration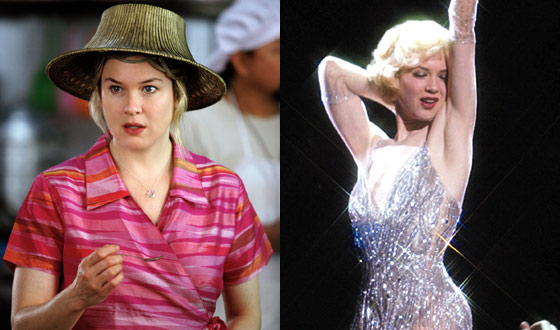 By now, you're probably tired of hearing about how all the free food in the office is making everyone fat. Never fear! Within a week, the most common topic of conversation will be everyone's dieting plans for the New Year. And where better to look for diet tips than to Hollywood, where extreme weight loss is often required to land a role? Read on for some of the most striking cases.

Adrien Brody
Brody is a pretty skinny guy: before The Pianist (2002), he weighed about 160 pounds — hardly obese. So it was more than a little jarring when he dropped 30 pounds to play the titular Holocaust survivor and concert pianist. Brody ate almost nothing for six weeks before filming and also for months during filming. His reward? An Academy Award for Best Actor. Precedent set!

Beyoncé
Beyoncé is many a man's dream woman, so it's hard to believe that she had to change at all for her role in Dreamgirls (2006) or that she would risk losing those God-given assets that drive people crazy. But she did just that, losing twenty pounds on a trendy diet cleanse. This, in order to emulate Diana Ross. Beyoncé maintained her appeal and gained most of the weight back after filming, giving fans of backsides reason to celebrate.

Christian Bale
Extreme weight loss isn't just for the ladies. Bale didn't go skeletal for fun, though owing to his well-known penchant for being somewhat unhinged, nobody would put it past him. He had a purpose: getting into character for The Machinist (2004). Bale literally starved himself for four months, allegedly eating only 275 calories a day, which not only sounds dangerous but also probably inspired a lot of jealously among models and their enviers.

Colin Farrell
It's not a good sign for a movie when the only thing anyone knows about it is that its buff star got freakishly skinny for the role. Farrell followed in the footsteps of Christian Bale and dropped just about every pound on his body for Triage (2009), becoming scary skinny, with bones protruding from all kinds of unnatural places. Unlike Bale, he ended up looking like Keith Richards, and the movie hasn't garnered any attention whatsoever. Nice try, Farrell.

Matt Damon
Damon recently packed on a ton of weight to play a fat fellow in The Informant (2009), but back in his younger days, he went in the opposite direction, for Courage Under Fire (1996). In order to film two days' worth of scenes as a heroin addict, Damon dropped 50 pounds and put his body through enough hell that he was on medication for several years after the movie wrapped. His flabby body in The Informant seems healthful by comparison.

Michael Fassbender
Fassbender was required to stay very, very hungry for Hunger (2008), which told the story of the 1981 Irish hunger strike. Fassbender had just filmed 300 (2007), for which he'd put on a ton of muscle. Going from that to his reported 600-calorie-a-day diet was surely torturous. Fassbender's Hunger fast puts at least one thing in perspective: just how insane Christian Bale was to eat less than half of Fassbender's daily ration.

Renée Zellweger
Zelwegger endured one of the most famous intentional weight gains ever, when she decided to pack on the pounds to play the chubby Bridget Jones in Bridget Jones's Diary (2001). Yet there she was, one year later, in Chicago (2002), standing next to Catherine Zeta-Jones and making the flawless actress look gargantuan by comparison. So much for making an empowering statement about the female form.
Tom Hanks
Production on the set of Castaway (2000) took a long break so that Tom Hanks could lose fifty pounds. (That's the weight of a moderate-size bulldog!) Hanks reportedly lost so much weight that he had to be placed under a doctor's care. That feat wasn't his first drastic weight loss for a movie: he shed a ton to portray an AIDS patient in the drama Philadelphia (1993).

Read More