Mary Robinette Kowal – Six Fantastic Candidates for the Next Santa Claus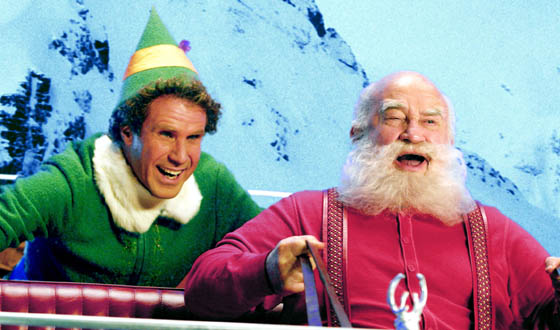 Merry Christmas! One of the things I love most about this time of year is that in households all around the world, people are participating in the world's largest fairy tale as they open presents under the tree to see what Santa brought them. (St. Nick is, after all, described as a "right jolly old elf.") Granted Santa's unique in the world of elfdom, but it's possible that any number of his kin could rise to the occasion. So let's take a look at some fantasy elves who could carry the mantle, should the big guy ever decide to take a year off.
6. Slannen – Ella Enchanted (2004)


In today's litigious times, Santa has to work hard to keep up with increasingly complicated regulations. Slannen (Aidan McArdle), with his desire to be a lawyer, brings a level-headed practicality to the position of Santa. No one talks about the miles of red tape that must be associated with crossing the custom barriers and the airspace of all the countries of the world. That doesn't mean Santa gets to skip it. Slannen is also hardworking and loyal, which are useful traits for a St. Nick. Still, who wants a tort for Christmas that's not almond?
5. Prince Nuada – Hellboy II: The Golden Army (2008)


Kids have been threatened with being put on Santa's naughty list for generations, but often ignore the threat, particularly as they get older. What really happens if you go on the naughty list? Coal in the stocking. With today's energy crisis, that might actually be a bonus. Forget those wimpy threats and bring Prince Nuada (Luke Goss) down the chimney. Gracefully lethal, he could strike fear into the hearts of children worldwide and easily enforce his wishes for good behavior. His Golden Army, being mechanical soldiers, could also cut down on labor overheads by automating many tasks. He just needs to work on his "jolly" factor.
4. Norda – Dungeons and Dragons (2000)


Who says Santa has to be
male? An experienced tracker, the elf Norda (Kristen Wilson) would have no problem keeping her naughty and nice list straight. Already possessing an outfit in red, she would retain some of the traditional trappings while adding her own flourish of plate mail armor — which will come in handy to protect her from the scrapes and bumps of chimney crawling. You can forget having clothes that are "all tarnished with ashes and soot," since the armor will clean off easily with a shammy rag.
3. Dobby the House Elf – Harry Potter and the Chamber of Secrets (2002)

One of the key components of Santa is his tireless work ethic. He spends all year prepping for one night of frenzied toy giving, for which he receives no payment. This is the perfect job for a house elf like Dobby (Toby Jones), who has already dedicated his life to serving others. Dobby is used to traveling by fireplace so the need to visit millions of chimneys should present no challenge. The only danger would be in giving him milk and cookies, as any gift could constitute a release from his responsibilities. As long as no one gives him a stocking, we should be fine.
2. Buddy – Elf (2003)


Promoting from the inside of the company is one of the best ways to ensure a sense of continuity. Already thoroughly familiar with the working environment of the North Pole, Buddy (Will Ferrell) would be able to keep things running smoothly. While his stature as a tall elf gives him problems in the workshop, that same height would become an advantage if he donned the Santa suit. Buddy is "lively and quick," and he also has the benefit of having learned about the business side of things while spending time with his real father.
1. Legolas – Lord of the Rings (2001)


Returning Santa to the lean traditions of Father Christmas, Legolas (Orlando Bloom) would bring a timeless air of masculine beauty to the role. Talk about visions of sugerplums! He can come down my chimney anyt– um… Ahem. On a purely practical side, his experience with Hobbits would translate well to understanding the workplace challenges of the North Pole's population of height challenged elves. In addition, Legolas's experience questing ensures that he will stop at nothing to deliver little ones' Preciouses.
Now if we widened the fantasy search to non-elves, who do you think would be a good Santa?

Mary Robinette Kowal is the winner of the 2008 John W. Campbell Award for Best New Writer and a professional puppeteer. Her first novel, Shades of Milk and Honey, is being published by Tor in 2010.
Read More