Maitland McDonagh – The Ten Most Chilling Wintry Fright Flicks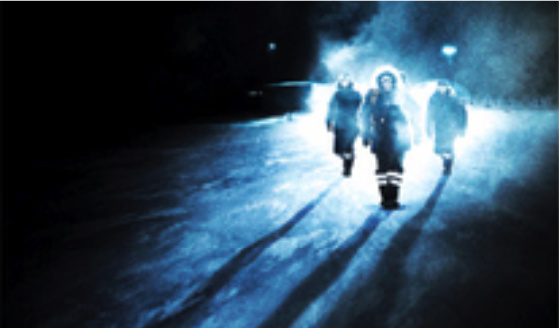 The weather outside is frightful, and what's going on indoors isn't much better. Snow may sparkle like party glitter, but being snowed in might mean death by maniac, monster, or malicious spirit. Check out these movies and commit their lessons to memory before you take a long drive, despite winter-storm warnings, to spend the weekend at a cabin buried deep in the woods.
The Shining (1980)
Everybody remembers the rambling, luxurious Overlook Hotel and the creepy ghosts that haunt its rooms and corridors. But the relentless snow that blankets the roads is equally responsible for the fate of the hapless Torrence family. If the roads were open, Jack Nicholson would be flashing his "Heere's Johnny!" grin for an audience of none.
The Thing (1982)
An Antarctic research team is trapped between a brutal polar winter outside and a shape-shifting alien that's picking them off one by one. John Carpenter's remake of the 1951 classic The Thing From Another World strikes a brilliant balance between monster movie and paranoid psychological thriller.
Wind Chill (2007)
It's almost Christmas, and a spoiled, snippy coed regrets her decision to go with a nerdy classmate to the Bermuda Triangle. But before they get there, they must fight bitter cold and the ghost of a corrupt highway patrolman who's been terrorizing unwary motorists for more than 50 years.
The Last Winter (2006)
Snowbound in the unbearable whiteness of the Arctic National Wildlife Refuge, an eight-person oil-drilling crew is subject to a malevolent force that preys on their deepest fears and triggers lethal violence. The haunting here is unlike any I've seen in another movie.
My Little Eye (2002)
A reality show leaves five strangers in an isolated house in the dead of winter — "dead" being the key word. If they all stay for six months, each wins $1,000,000; if anyone leaves, everyone loses. The murderous winter cold makes it impossible for them to split when they realize that one of their housemates is an ice-cold killer.
The Abominable Snowman of the Himalayas (1957)
An ill-fated expedition falls prey to brutal cold, stinging snow, inner demons, and the elusive yeti in this early Hammer horror movie, shot in bleak black-and-white. A smart script by acclaimed scifi writer Nigel Kneale and Peter Cushing's performance as a betrayed scientist increase the chill.
The Curse of the Cat People (1944)
The eerily poetic sequel to Cat People revolves around a dreamy, imaginative child who weaves fairy-tale images and fleeting memories of her late mother into an imaginary friend. The denouement plays out against a shimmering winter landscape as potentially deadly as it is magical.
Let the Right One In (2008)
What might be the most disturbing vampire story of the decade unfolds in a bleak Stockholm suburb in the depth of winter. The frozen landscape screams loneliness and alienation, and blood never looks redder than when it's splashed across a field of pristine snow.
Valkoinen Peura (1952)
Shot in Finnish Lapland, this weird and wonderful movie follows a peevish young bride who becomes a shape-shifter when a love spell backfires. The glittering, ever-present snow deserves its own billing: in the reindeer graveyard, a forest of forlorn-yet-menacing antlers pokes up through the white.
Kwaidan (1964)
Two woodcutters cross paths with the Woman in the Snow in one section of this acclaimed Japanese horror. We may not have ice ghosts around these parts, but one look at her says "bad news" in the international language of fear.
And a special mention to these movies. They're not quite as bone-chilling as the previous ten, but they'll all make you glad to be watching them in your warm home.

Read More