Maitland McDonagh – The Top Ten Horror Movies of 2009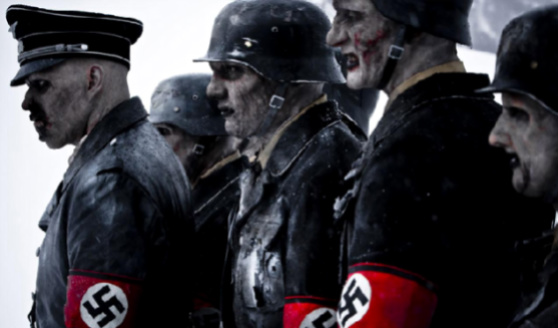 Sure, there's plenty of junk littering the horror landscape. But 2009 was a terrific year for horror movies: Veterans like George Romero and Frank Henenlotter came up with surprisingly fresh variations on classic themes, and first-timers proved that a great idea and a little ingenuity could transcend low-budget limitations and leave jaded fans shivering in their socks. Can you say Paranormal Activity? So without further ado, these are my picks for the ten best of 2009.
10. Dead Snow/Dod Sno
Yes, it's in Norwegian — and who cares? It speaks the universal language of Nazi zombies laying siege to a cabin crammed with horror-movie stereotypes: The hot girl, the movie geek, the jock and the jockette, the hound dog, the sensible babe and all the rest. What begins as an assured exercise in wringing suspense from classic set-ups becomes a gore-soaked romp. Dead Snow is a fine addition to the ranks of Nazi-zombie horror movies.
9. The Collector
Saw-franchise veterans Marcus Dunstan and Patrick Melton's mean-spirited torture show is a throwback to the nastiest home-invasion movies of the 1970s and '80s. The plot is so stripped down it's barely there — good-hearted thief breaks into house, discovers family being tortured by masked madman, tries to save little girl while dodging fiendish booby traps. A key plot point doesn't bear close examination, but The Collector has the courage of its sadistic convictions.
8. Jennifer's Body
Megan Fox plays a high school hottie grappling with the devil in the flesh in Diablo (Juno) Cody and Karyn (Girlfight) Kusama's rueful homage to 1980s horror movies. For all Fox's smoldering, the movie belongs to best friend Amanda Seyfried (of Mamma Mia! and TV's Big Love), the sensible girl who walks through the fires of hell and comes out blackened but unbowed.
7. Zombieland
In the not-too-distant future, nobody worries about catastrophic climate change, the war on terrorism, third-world nukes, global economic collapse or swine flu, because some super-mad cow disease has turned most of the human race into sprinting, slavering, gut-munching zombies. The rest try to get through the day without being eaten, some with more panache than others. It doesn't break any new ground, but it gets the hum
or/horror balance right and features Bill Murray in a small, but grimly hilarious, role.
6. Surveillance

Made in 2008 but not released until 2009, this twisty tale of sex-murder, lies and videotape directed by Jennifer (daughter of David) Lynch is a taut, nihilistic exercise in heartland desolation and contradictory narrators. It plays 100 percent fair with the audience — if you're willing to see it, the truth is out there from the beginning — and French Stewart-haters get a bonus in the form of his performance as a loathsome hick cop.
5. Thirst
A gentle priest is inadvertently transformed into a vampire in Korean writer-director Park Chan-wook's gore-soaked, taboo-testing tale of flesh and spirit locked in mortal combat. The initially incongruous mix of Cronenbergian body horror, vampire eroticism, sun-blistered flesh and crimson geysers of blood gradually resolves itself into grand guignol farce with a dark, haunting heart.
4. The House of the Devil
Neither spoof nor tongue-in-cheek pastiche, Ti West's low-tech chiller doesn't show much, but it gradually ratchets up the suspense to knuckle-whitening proportions. A quiet, serious coed finds an off-campus apartment she can barely afford and takes a weird babysitting gig to bankroll it. Her employers (Tom Noonan, Mary Woronov) seem nice enough, but they're a little odd… make that a lot odd. Retro chills, served straight up.
3. Bad Biology
Remember Frank Henenlotter, the guy who blew a generation's minds with 1982's Basket Case? Well, 25 years later he does it again with Bad Biology, the twisted tale of a woman with too many lady-parts and a guy whose manhood has a murderous mind of its own. Cheerfully sick, deliriously perverted and so gleefully out of bounds, it's positively revolutionary.
2. Deadgirl
Trust me: Deadgirl is officially the Worst Date Movie Ever, a pitiless look at the worst aspects of teenage male horndog-dom. A pair of small-town, high school outcasts stumble across a girl chained to a gurney in the abandoned nuthouse at the edge of town; she's kind of smokin', but also kind of living dead-ish. The loser boys see an opportunity to get their freak on without worrying about feelings or protective older brothers or consequences in general. Except that there are consequences: Think of it as Beavis and Butthead go to Zombie Strippers hell.
1. Paranormal Activity
Ignore the Blair Witch Project-style backlash: First-time writer-director Oren Peli's Paranormal Activity (which debuted at the 2008 Slamdance Film Festival but wasn't released until this year) is the little fright flick that could. Brittle young lovers Micah and Katie move into a shiny new townhouse that comes with things that go bump in the night. Skeptical Micah sets up a camera in their bedroom and records a whole lot of unsettling stuff that occurs while they're asleep… It's a low-tech, DIY triumph of imagination over budget ($11,000.00) and it's seriously creepy.
Did I fail to include one of your favorites? Use the comments field to weigh in.
Read More