Killer Puzzles, Evil Outfits, and Psycho Dolls – Scott Sigler's Horror-Day Gift List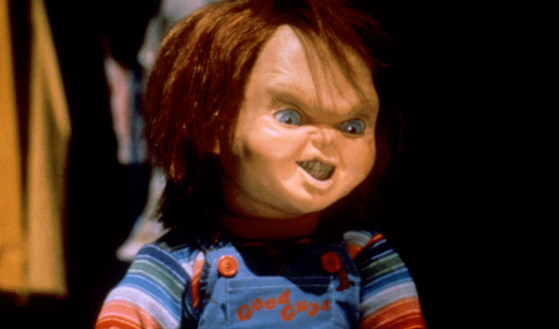 Oh, for crying out loud — is it Christmas again, already? The economy is tight, so what's a fan of horror to do? Get your friends, family, co-workers, and enemies a delightful selection from Uncle Scottie's Catalog of Doom — that's what you do. You want selection? Children, we got selection.
These are the gifts that keep on giving — presents that will turn your nearest and dearest into the stars of their own horror movies. They'll probably go insane and kill everyone within reach, so make certain you're somewhere else on Christmas morning. Maybe you should sleep in — with plenty of dead bolts on the door. For now, feast your evil eyes on the selections below: pick a category, pick a present, and, if you order now, we'll throw in a Clapper™ and a ShamWow™!
Clothing
How about a nice haunted cape from I'm Dangerous Tonight? That's right, a cape that makes you kill people. It sure sounds like it would make a good flick; what with stars Anthony Perkins (Psycho), Dee Wallace (The Howling), and director Tobe Hooper (The Texas Chain Saw Massacre) in the mix. And if that doesn't work, you can always get the guys on your list a nice black "evil me" outfit, à la the Venom suit from Spider-Man 3.
Puzzles and Games
If you think a Rubik's Cube will piss your brother off, try getting him Pinhead's box (which is not as naughty as it sounds) from the Hellraiser series. This might be the most played with toy in the history of horror. A good gift for the lonely people on your list, since they'll soon have Cenobite friends coming out of the walls to play.
Jewelry
When in doubt, buy a piece of decorative metal, with or without a rock attached to it. Hey, I'm not the one inventing the horror here: Zales and De Beers are running nonstop holiday-commercial marathons that tell us the only proper way a man can express his love for a woman is with jewelry. If you want to get her something nice, how about the One Ring from The Lord of the Rings? And as long as we're talking about your entire reason for existence being a piece of metal, might as well go for broke: how about a scorpion bracelet from The Mummy Returns? Good for the goth babe on your list.
Dolls
Sheesh, where to begin? Well, Chucky from Child's Play is a good guy to start with. Then there's that crazy clown doll from Poltergeist (I try not to think about that one, because it scared the hell out of me as a kid), the ventriloquist's dummy from Magic, or that nasty, nasty Zuni fetish doll from Trilogy of Terror. If it's good enough for Karen Black to buy as a gift, it's good enough for you.
Wigs
Now this might not be the first item that pops into your mind when you think "present," but don't you know some balding dudes or some girls who like to go clubbing and crave an instant new look? Well, the haunted wig from K-horror flick Gabal has you covered. (You can't get much closer to a cursed object than by putting it right next to your brain.) For a variation on the idea, look to the Japanese Exte: Hair Extensions. This year, give the gift of dead people's hair, complete with hallucinations, ghosts, and murder.
Household Appliances
How about a nice high-def TV, the latest model from Poltergeist? Comes complete with a small blonde child. Don't get the Japanese-made model, though, unless you want a TV that comes complete with a malevolent, black-haired ghost child, à la The Ring. You know what every woman wants? A vacuum cleaner. So why not get her one that also functions as a psychotic appliance, like the model shown in Close Encounters of the Third Kind?
Books
Give the gift of reading, the gift of wisdom! How about The Necronomicon, a nice, leather-clad tome from The Evil Dead? Wait, that's human skin? Technically, it's still leather, just a really nasty kind. Or how about a book that writes itself, like the fairy-tale collection in Pan's Labyrinth? Perfect for kids with morbid, overactive imaginations. If your gift recipient is more of a thriller reader, you can't go wrong with a nice tale by Sutter Kane. At least, that's what they say in In the Mouth of Madness.
Horror Malls
If you haven't found the right thing on my list, you can hit the mall. For the perfect haunted gift, look no further than the gift shop from Friday the 13th: The Series. It's an awesome place, jam-packed with unique, make-you-a-killer gifts. Want something a little more modern? Hit up Warehouse 1. It has plenty of gifts perfect for your favorite psycho-to-be.
Ho-Ho Horror
There you go, dear reader: a delightful selection of special presents for special people. What objets de terreur did I miss? What haunted baubles would you suggest I add to Santa's list? Put them in the comments field below.
New York Times best-selling author Scott Sigler writes tales of hard-science horror, then gives them away as free audiobooks at www.scottsigler.com. His novel INFECTED was named Borders' #1 mystery, thriller, and horror novel for 2008. His next major hardcover horror-thriller, ANCESTOR, will be out on May 4, 2010.
Don't agree with what Scott says on this blog? That's okay: he doesn't like you anyway. That one time you accidentally drank sour milk? Yeah, that was him exercising his evil mind control. Watch your ass, pal, because there's more where that came from.

Read More