John Scalzi – The Best SciFi Movies of the '00s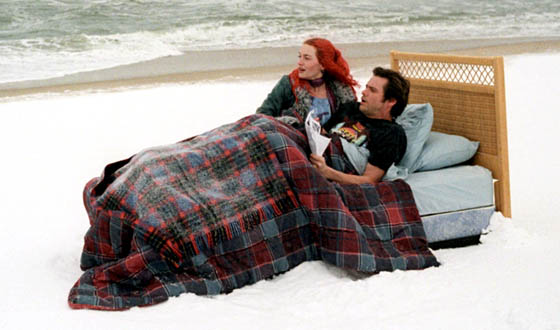 And now we've come to it: The last day of the year and also the last day of the decade, and with that turn comes my list of the Best Science Fiction Movies of the '00s.
As with my list of the Worst Movies of the '00s, I'm making some eligibility requirements. The movie must be:
1. Released between January 1, 2000 and right this very second;
2. Released to theaters in the U.S. (i.e., no straight-to-video or TV movies);
3. One of the top 100 money grossers of its year.
This last one may be controversial, as it snips off at least a couple movies which might otherwise deserve consideration (most notably Primer and Moon). But I think being seen matters. You're free to disagree. But if it really bothers you, remember I gave Moon some love last week.
And with that, here is my list, in alphabetical order:
28 Days Later (2002)


This was a primary spur for the decade's fascination with the undead, and offered two critical innovations to zombie lore: First, a "viral" explanation (which makes it science fiction), and second, the feral "fast zombie" as a counterpart to the classic shambler. Also, the movie was brilliantly done for totally cheap ($8 million), which showed that great scifi doesn't always need hundreds of millions of dollars to be realized.
Avatar (2009)
But then again, sometimes scifi does need hundreds of millions of dollars, and no one makes those millions go further than James Cameron. This flick leaps into this essential list on the strength of its visual design and technical accomplishment, and sets the bar for big-budget scifi so high that filmmakers will spend the next decade trying to clear it.
Blade II (2002)


Keep Spider-Man 2 and Iron Man — for me, this was the essential live action comic book adaptation. Why? Guillermo del Toro gives it a grubby, gothic visual chic that announced his talent to mainstream audiences, paving the way for Hellboy, Pan's Labyrinth, and his involvement in the upcoming Hobbit movies. It's also (with 28 Days Later) the best horror/scifi mash-up of the decade.
Cloverfield (2008)
Star Trek was actually J.J. Abrams' second most successful genre reinvention; the first, which he produced, finally gives New York City the Godzilla it deserves. For me, this movie about making it through the night while being chased by your demons, one of which is the size of the Chrysler Building, has more staying power than Star Trek. It's also, like 28 Days Later, a testament to what you can do with movies, even on a budget as low as $25 million.
District 9 (2009)


This is the shakiest entry on the list for me, and not just because it follows the "handheld" filming ethos. It's shaky because a lot of its appeal is that it came out of nowhere and was both smart and darkly funny, which made it an excellent antidote to the toxic shock stupidity of so many of 2009's summer blockbusters. I do wonder if its appeal will survive separated out from the Transformers and G.I. Joes of the world, but I'm glad it was there when it was.
Eternal Sunshine of the Spotless Mind (2004)
Put a gun to my head and I'd say that this was the best scifi movie of the decade (note: please don't put a gun to my head). It does what scifi should do — take your perceptions of reality and plausibility and upend them, leaving you breathless with a buzzing brain. That it also has a poignant love story and two of the best acting performances of the decade (from Kate Winslet and Jim Carrey) doesn't hurt either.
The Incredibles (2004)


Or, if you like, swap this with WALL-E (2008) — both deserve a spot on the list, and both are from Pixar. The Incredibles to my mind is the definitive commentary on the superhero genre — the movie that does what Watchmen wanted to do, and still manages to be a comedy. WALL-E, on the other hand, offers the best physical comedy of the decade with a smidgen of social satire and environmental consciousness. That two of the best scifis were also meant to be seen by families seals the deal for their significance. Rock on, Pixar.
Minority Report (2002)
Steven Spielberg had three impressive if flawed scifi movies in the last ten years: A.I., War of the Worlds and Minority Report (let us not speak of Indiana Jones), and of the three, this one was the most genuinely impressive: a dark and cynical look at technology and how blind faith in it leads to moral dead ends. People are so used to Spielberg being good at what he does that we take him for granted; take another look at this one and see more than you saw the first time.
Serenity (2005)


Serenity's fans don't like acknowledging that their favorite scifi of the last decade was an abject failure (it just barely squeaked onto this list as the 100th most successful movie of 2005). The reason they don't like acknowledging its failure is because there's no reason it should have failed: This is fun stuff, full of action, great characters and dialog and interesting moral quandaries. Serenity stands as a testament to the fact that life isn't fair, and you make the best of what you get out of it.
V for Vendetta (2006)
My vote for the Most Underrated Science Fiction Movie of the Decade, this is the Wachowski Brothers' best script of the decade, and the best Alan Moore adaptation — the author's outright contempt for Thatcherite England is successfully ported into our own turbulent political era, making for a dystopic movie that I think people will eventually see as wholly representative of the frustrations and paranoia of its era. I could be wrong. Let's check back in a decade.
Have a happy and safe New Year's Eve, folks. See you on the other side of the decade.

Winner of the Hugo Award and the John W. Campbell Award for Best New Writer, John Scalzi is the author of The Rough Guide to Sci-Fi Movies and the novels Old Man's War and Zoe's Tale. He's also Creative Consultant for the Stargate: Universe television series. His column appears every Thursday.
Read More