Is It Incestuous to Romance Your Sister-In-Law? Not at the Movies!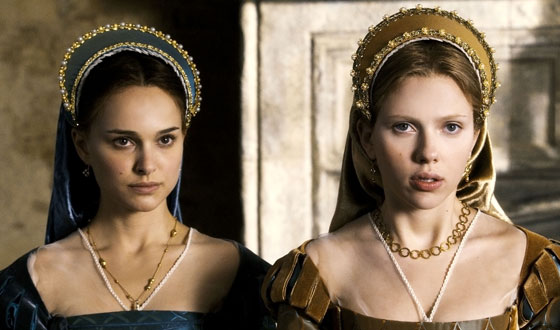 Watch enough movies and you might think the world operates like an episode of Jerry Springer: Siblings girlfriend-swap and steal each others' lovers… sometimes they even marry them. What's a rarity in real life (or so we'd like to think), is a common trope on the big screen. Witness Brothers: Jake Gyllenhaal gets it on with sister-in-law Natalie Portman while they grieve over his brother (Tobey Maguire) who is presumed dead in Afghanistan. You can guess where it goes from there. What other intra-family affairs have tackled the topic? Read on!

The Other Boleyn Girl (2008)
Clearly, Natalie Portman is a fan of this topic. In this epic, she travels to 16th-century England to play Anne Boleyn, who achieved a history-altering sibling swap with sister Mary (Scarlett Johansson). Their father gave Mary to a man who proposed to Anne, then after Mary is knocked up by Henry VIII (Eric Bana), Anne decides to seduce him out of revenge! This one's a cautionary tale: Anne ends up being accused of treason — and incest with her brother — and loses her head. Literally.

Dan in Real Life (2007)
Dan (Steve Carell), an advice columnist, falls for Marie (Juliette Binoche), who just happens to be his brother Mitch's (Dane Cook) girlfriend. That's quite a dilemma, even for an advice columnist! Of course Dan and his possible future sister-in-law/love-interest end up kissing and his entire family, including Mitch, walk in on it. Mitch is so upset, he punches Dan, yet by movie's end, Dan and Marie getting hitched, and Mitch is seemingly fine with it. This guy heals faster than Wolverine.

The Family Stone (2005)
This
movie features the least acrimonious swap of all time. The short
version: Uptight Sarah Jessica Parker goes home with her boyfriend
(Dermot Mulroney) for family Christmas and it's awkward. Then she falls
in love with Mulroney's brother (Luke Wilson) and invites her sister
(Claire Danes) to break the tension. Danes and Mulroney immediately
fall for each other and both couples all ride off into the sunset. How
wonderfully convenient!

The Patriot (2000)
When
widower Mel Gibson goes off to single-handedly kick the British out of
the American colonies, his wife's sister (Joley Richardson) stays with
his dozens of children. Of course, Richardson has a thing for Gibson
right off the bat and it's only a matter of time before she becomes
surrogate mother to the children, basically replacing her sister as
Gibson's wife. That's the ever-practical colonial America for you — nothing goes to waste.

Legends of the Fall (1994)
Guys, if you sense any sexual tension between your sibling and your lady, don't go off to war. They will
get together. In this period drama, multiple brothers fall for Susannah
(Julia Ormond), the fiance of their now deceased brother. One (Aidan
Quinn) attempts to marry her, but she ends up in bed with another (Brad
Pitt), who leaves her. So she marries Quinn and sets a record for
tramping it up with siblings, managing to sleep with all three of the
brothers in just one movie! Impressive.

Rudy (1993)
Poor
Rudy (Sean Astin). His best friend dies, he takes off in a seemingly
impossible attempt to get into Notre Dame, and when he returns home for
the holidays, his lady love has taken up with his obnoxious brother.
Just another kick in the junk for Rudy who, at this point in the film,
spends his time either working in the steel mill, or reminded by his
family that he'll probably never play for Notre Dame. Of course, Rudy
does just that. Take that betrayers!

Sibling Rivalry (1990)
Most
sibling rivalries involve siblings competing for parental attention or
maybe even the attention of a woman. In this case, the rivalry isn't
even intentional. Kirstie Alley, an unhappy housewife, meets a man and
has sex with him. He proceeds to drop dead, leading to a chain of
events where she finds out he is, in fact, her husband's brother. Is
cheating on your spouse with their sibling unintentionally as bad as
doing it on purpose? Food for thought.

Hannah and Her Sisters (1986)
Since
this one's a Woody Allen movie, deranged romantic entanglements is
pretty much de rigeur. But even for Allen, this one is a bit beyond the
pale. One of Hannah's (Mia Farrow) sisters (Barbara Hershey) decides to
have an affair with Hannah's husband (Michael Caine). Meanwhile,
Hannah's other sister (Dianne Wiest) ends up marrying her ex-husband
(Woody Allen)! Next time you're mad at one of your sibs, think of poor
Hannah and know that you haven't got it that bad.

Read More