Uncategorized
Flashback Five – Happy Christmases in Hard Times (in the Movies at Least!)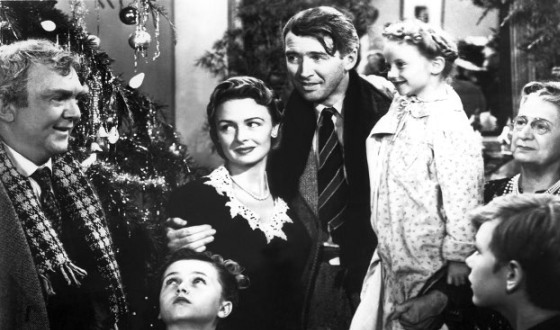 In tough economic times, two things are sure to cheer people up: death and taxes. Wait, that's not right. It's actually Christmas and movies, two words that go together like eggnog and a healthy splash of rum. Here's to movies that prove you can have a happy holiday season, even when times are tough.
1. Disney's A Christmas Carol (2009)
We could have chosen any of the numerous adaptations of the Dickens classic, but in Zemeckis's faithful CGI spectacular, Bob Cratchit and family manage to thaw the heart of miserly Scrooge and get a Christmas goose with the help of three rascally ghosts. Though they're not rich — not by Ebeneezer's standards, at least — they prove you don't need much green to bring the red and green.
2. Fred Claus (2007)
You wouldn't think that Santa Claus would have any problem with money, given his profitable elf-employment and toy-making operations — but in this movie things aren't going so well at the North Pole, according to efficiency expert Kevin Spacey, who ends up nearly ruining Christmas by turning off the electricity in Santa's workshop as a way of saving money. Don't worry, though — Spacey has a change of heart, estranged brothers are reunited, and Christmas is saved.
3. Trading Places (1983)
No modern comedy quite exemplifies negotiating tough economic times at Christmas like this Eddie Murphy-Dan Aykroyd laugher. Aykroyd's elite stockbroker ends up switching places with Eddie Murphy's homeless con man as part of a holiday bet by two businessmen. Naturally, Aykroyd learns he can be happier at the holidays when in love of a good woman (Jamie Lee Curtis) than he would be making all the money in the world.
4. We're No Angels (1955)
Ignore the pitiful Robert De Niro remake — this Humphrey Bogart comedy is a true Christmas classic. Three convicts escape from prison and hide out in a poor French family's house over Christmas, having promised to help them fix their roof. They eventually warm to the family and cook them a sumptuous — and stolen — Christmas dinner.
5. It's a Wonderful Life (1946)
Sorry, what's the plot of this movie again? Kidding. Who could forget how the story goes: Jimmy Stewart, having lost all his money, decides to take his own life on Christmas, only to be saved by a kindly angel named Clarence who shows Stewart what the lives of those around him would have been like had he never lived. (Hint: not so hot!) Newly enlightened, he heads back home and discovers that his family and friends are the most important things in the world, despite the fact that they're no better off than he is.
Honorable Mentions:
1. Catch Me If You Can (2002) – Christmas is both the best and worst of times for Leonardo DiCaprio's con, as it evokes memories of his poor but happy family and drives him to call Tom Hanks's federal agent on the phone every year.
2. The Family Man (2000) – In this remake of It's a Wonderful Life, Nicolas Cage learns that if he had taken a different path in life, and satisfied himself with having a penniless existence with Téa Leoni, he would have found true happiness, especially on Christmas.
3. Soldier (1998) – Kurt Russell's emotionless killing machine learns about feelings after being exiled to a harsh alien planet's shantytown: during a Christmas celebration, Russell is given a scarf and shows happiness for the first time.
4. Gremlins (1984) – A poor inventor buys a weird creature (Gizmo, a Mogwai) from a poor man in Chinatown, causing the near destruction of the hamlet of Kingston Falls. Though that doesn't sound too happy, the town bonds against the Gremlin menace and ends up having a good Christmas despite it all.
5. The Gift of the Magi (1917) – O. Henry's classic tale gets the silent-film treatment. A couple sells their golden hair to buy each other hairbrushes for Christmas. Though O. Henry launched irony, he also knew that on Christmas love is the best gift of all.

Read More