Uncategorized
Flashback Five – The Best Holiday Movies of the Last Few Years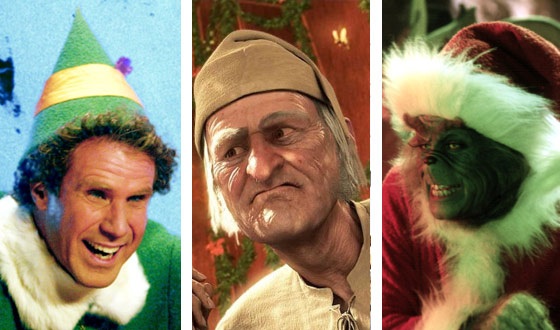 When the holidays roll around, you can be forgiven for eschewing the mainstream blockbusters in favor of a big dose of old-fashioned nostalgia. A Christmas Story may be the movie that instantly comes to mind (if only because it plays non-stop this time of year) but the studios have been reliably churning out Yuletide movies each year over the course of the past decade, and judging by their box-office takes, moviegoers love the new ones just as much. What are the biggest holiday blockbusters of each year in recent history? Glad you asked!
1. Disney's A Christmas Carol (2009)

Jim Carrey proves he's still got it with this smash-hit version of the oft-revisited seasonal classic. Voicing Ebenezer Scrooge and the Ghosts of Christmas Past, Present, and Yet to Come, Carrey nailed the role and won hearts to the tune of $125 million-plus (and counting). That take may not match his prior holiday successes (more on that later), but it beats out just about every other movie on this list.
2. Four Christmases (2008)
Apparently the prospect of Reese Witherspoon and Vince Vaughn hauling themselves all over the country under duress to visit four different sets of parents strikes some sort of chord with the moviegoing public: This comedy beat out several other 2008 contenders (Nothing Like the Holidays, Wreck the Halls) at the box office and brought in big bucks, despite a critical lashing.
3. Fred Claus (2007)
Vince Vaughn tackles another Scrooge-y role, this time as Santa's cynical big brother. As a disgruntled repo man forced to travel to the North Pole to borrow money from his estranged sibling (Paul Giamatti), Vaughn's not the first actor to get laughs by being the big dude among little elves (see: 2003). But he gets points for not taking himself too seriously. As a bonus, a miniaturized John Michael Higgins is hilarious as Santa's head elf.
4. The Santa Clause 3: The Escape Clause (2006)
It may not have made quite as much as the $144-million-generating original Santa Clause back in 1994, but this threequel — starring Tim Allen as Santa and Martin Short as competitor Jack Frost — made more than double that year's big competition, Deck the Halls, a grating small-town comedy starring Danny De Vito and Matthew Broderick.
5. The Family Stone (2005)
Sarah Jessica Parker anchors the ensemble cast of this comedic drama, in which a neurotic New Yorker (surprise, surprise) goes to meet her new boyfriend's unusually tight-knit family over a hijinks-filled Christmas weekend. Watch it with your own obnoxious family — but have tissues ready for the sad scenes at the end.
Earlier Mentions:
1. Christmas With the Kranks (2004) – Who knew that a movie about a couple (Jamie Lee Curtis and Tim Allen) would bring in more than double the box-office of a well-liked hit like The Polar Express, out that same year?
2. Elf (2003) – The originator of the Big Guy/Little Elves conceit stars Will Ferrell as an overgrown North Pole inhabitant forced to fend for himself in the big city.
3. Adam Sandler's Eight Crazy Nights (2002) – One of the few entries in the Hanukkah-movie genre, the goofy comedian co-wrote and provides the voices for this animated tale.
4. Christmas Carol: The Movie (2001) – Someone must have been asleep at the sleigh reins this year, because this animated pic was the biggest holiday flick to come out in 2001, and no one really remembers it now.
5. Dr. Seuss' How the Grinch Stole Christmas (2000) – Jim Carrey's first holiday flick found him inhabiting the role of the green holiday-hater, and the crowd went wild: The movie remained at No. 1 for four straight weeks.
Read More