Daily Scan for 12.01.09 – King's Colorado Kid Gets Adapted, Trek's Pilot Gets Released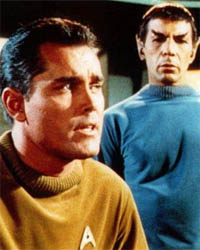 • Stephen King is getting another television miniseries, in the form of an adaptation of his Colorado Kid, which involves the supernaturally exiled living in Maine.
• Smallville's Justice Society gets a sneak peak, and Hawkman, Doctor Fate and Stargirl all look great.
• The first set shot of the Predator homeworld is revealed, and at the risk of paraphrasing an overworn t-shirt, it looks gorges.
• Just like Peter Jackson did with Neill Blomkamp, Sam Raimi intends to play industry mentor to Uruguayan director Federico Alvarez for a movie about giant robots.
• For the first time ever, Star Trek's original pilot is being released, featuring a very different look at the nascent Federation.
• Ten minutes of new footage compares Zoe Saldana to her Avatar character.
• Want to know when David Tennant's Doctor Who dies? Consider it January 1st, 2010.
Read More