Classic Ten – Unforgettable Movie Love Triangles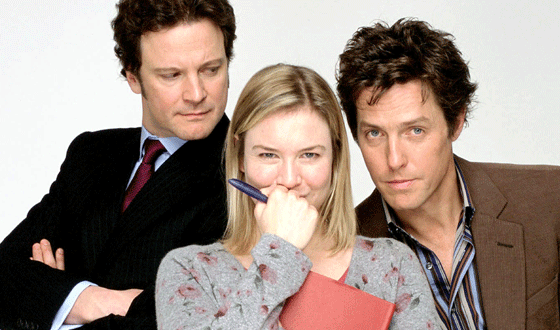 Love triangles are the cornerstone of romantic comedies and dramas. Why let the happy couple walk off into the sunset when you can throw a third wheel into the mix? In It's Complicated, Meryl Streep and Alec Baldwin rekindle their defunct marriage on the sly. But then Steve Martin, playing an architect, enters the picture and wants to do more than remodel Streep's kitchen. And thus, a classic love triangle is born… and the title starts to make sense. Here are ten of our favorite triangles from romantic comedies, dramas and action movies. Let us know which broke your heart (or drove you crazy) in the comments.
10. Indecent Proposal (1993)
Would you let Robert Redford sleep with your wife for a million bucks? This sleazy proposition throws a cog into the marriage of David (Woody Harrelson) and Diana (Demi Moore). When David's jealousy and insecurities reach a boiling point, Diana runs into the arms of smarmy billionaire John (Redford). But true love can't be denied, and Diana eventually returns home. For its icky premise, Indecent Proposal trails the list in tenth place.

9. Pretty in Pink (1986)
The prep or the geek? Fans still can't agree whether Andie (Molly Ringwald) should have ended up with "richie" Blane (Andrew McCarthy) or her loyal best pal Duckie (Jon Cryer). In the end, Duckie gives Andie his blessing, which leads to her making out with Blane to the tune of OMD's "If You Leave." (Happily, Duckie scores Kristy Swanson at the prom!) But since we've always been Duckie fans, we have to place this triangle at number nine.

8. X-Men (2000)
X-Men fans know that the love triangle between Wolverine (Hugh Jackman), Jean Grey (Famke Janssen) and team leader Cyclops (James Marsden) provides much of the franchise's heat. Jean finally gives in to her attraction to the rugged, often shirtless, Wolverine in The Last Stand after sticking with Cyclops for the first two movies. But in the end, Jean goes crazy, killing Cyclops and forcing Wolvie to put her out of her misery. For its bummer of an ending, the X-triangle lands at eight.

7. Match Point (2005)
Like Fatal Attraction before it, this one falls into the category of "deadly love triangles." Chris (Jonathan Rhys Meyers) enters into an affair with Nola (Scarlett Johansson), while still married to Chloe (Emily Mortimer). But when the fling goes awry, Chris decides to off Nola! Before things sour, they have a torrid fling that includes rain-soaked smooching, among other scorching moments. Despite the heat, this one stays firmly in seventh place for its decidely cruel intentions.
6.

The Truth About Cats and Dogs (1996)
This flick plays on the old Cyrano de Bergerac trope, wherein a shy protagonist calls upon a better looking stand-in to help make a match. In this case, it's Janeane Garofalo's unlucky-in-love radio DJ who allows a dim-witted model (Uma Thurman) to sub-in for her on hot dates with hearthrob Brian (Ben Chaplin). While the movie's cute and often funny, it's hard to swallow the idea of Garofalo not being crush-worthy. This one gets downgraded to sixth place for its outdated premise.

5. Bridget Jones' Diary (2001)
Inspired by the classic love triangle in Jane Austen's Pride and Prejudice, singleton Bridget (Renee Zellweger) is stuck between cocky nice guy Mark Darcy (Colin Firth) and womanizing cad Daniel (Hugh Grant). In the end, Bridget realizes Daniel's true nature and ends up with Mark — but not before her diary gets in the way when Mark reads the unkind things she's written about him. For the fisticuffs this triangle leads to at movie's end, Bridget cracks the top five.


4. My Best Friend's Wedding (1996)
She loves her best friend, but he's getting married, and now she has to be the maid of honor at his wedding. What will Julianne (Julia Roberts) do? Why, get her gay best friend (Rupert Everett) to lead everyone in a rousing round of "I Say a Little Prayer (For You)," of course! Unfortunately Julianne's attempts to sabotage the wedding are for naught, and her best pal (Dermot Mulroney) marries his girl (Cameron Diaz). Still, for showing that your best friend is sometimes just a friend, this one lands the coveted fourth spot.


3. Working Girl (1988)
Jack (Harrison Ford) is involved with high-powered exec Katherine (Sigourney Weaver), but falls for Tess (Melanie Griffin) while Katherine's away. Problem is, Tess isn't the captain of industry she claims to be… And so we have a classic case of romantic misunderstanding. But because the underdog wins the day, and because Tess and Jack do end up together, Working Girl comes in at number three.


2. Titanic (1997)
This triangle boils down to class: Upper class Rose (Kate Winslet) is set to marry the dashing stiff Cal Hockley (played by Billy Zane, expert of the dashing stiff). But before you can say "Look out for that iceberg!" she's letting working class drifter Jack (Leonardo DiCaprio) sketch her in the nude and take her down to the cargo hold to fog up car windows. Unfortunately we all know how this one ends up. Still, the ferocity of Jack and Rose's tragic love is enough to earn them second place.
1. The Graduate (1967)
What's more complicated than sleeping with a married woman while dating her daughter at the same time? Benjamin (Dustin Hoffman) falls into bed with Mrs. Robinson (Anne Bancroft) while doing everything to avoid falling for the fresh-faced Elaine (Katherine Ross). Alas, Elaine's already walking down the aisle with another when Benjamin realizes his true feelings. Of course, the famous final scene, with Benjamin and Elaine sitting on the bus together as "The Sound of Silence" underscores their uncertainty, suggests that the complications have only just begun.

Read More