Classic Ten – TV Stars Who Flopped on the Big Screen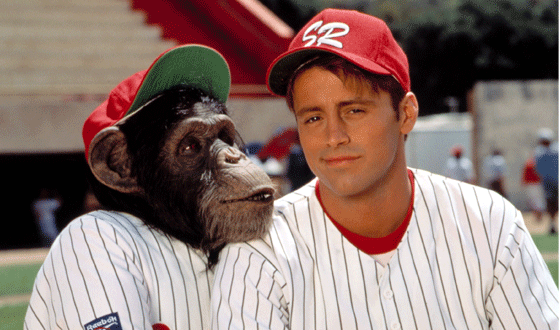 The way we watch TV is very different than the way we watch movies. Whereas we give movies our full attention for a couple of hours and then go on our way, we give our favorite television shows an hour or so a week for years on end, and come to view the characters as friends. Sometimes, viewers like a character so much that they forget he isn't real: Matt Damon has said that when he walks around with George Clooney, women still yell out, "Dr. Ross!" Sure, those ER fans are crazy, but for all these reasons and more, television fame rarely translates to success on the big screen. Looking for proof?

10. David Caruso in Kiss of Death (1995)
This one comes in at tenth merely because its inclusion is so obvious: Caruso is practically the poster boy for actors who couldn't make it at the movies. The beloved NYPD Blue star left the series at the height of his fame and took a crack at the big screen, but unfortunately for him, this Queens-set crime thriller (in which he starred opposite Nicolas Cage) proved true to its name. Flash forward to the present and Caruso is back where he belongs — on the TV, playing Lt. Horatio Caine on CSI: Miami.

9. Kelsey Grammer in Down Periscope (1996)
The reason this movie is coming in ninth is because Kelsey Grammer has actually had considerable success on the big screen as a voice-over actor: He was in Toy Story 2! But while kids may find his plummy voice funny, no one, young or old, likes looking at him on a large screen. This flick is basically a movie about a bunch of idiots on a submarine, and that about sums up why it was such a bust.

8. Kiefer Sutherland in Mirrors (2008)
He may have had a pretty solid movie career going back in the '80s, and Kiefer's had quite a comeback with 24, but he hasn't yet been able to bring that magic back to the big screen. He tested the waters with the so-so action movie The Sentinel, which at least made good use of his gun-waving and yelling skills. But in this horrible horror flick, he plays a dad trying to protect his family from evil forces that use mirrors as their points of entry. Stick to what you know, Kiefer.

7. Matt LeBlanc in Ed (1996)
Oh to be a fly on the wall during the meeting that yielded this role! "Look, Joey, I mean Matt, the world loves you. After reading through literally hundreds of different screenplays, we here at your management company have decided unanimously, you should be in this movie in which a monkey plays baseball." And to think, LeBlanc was actually paying someone to manage his career. We blame everyone, including the monkey, for this non-starter.

6. Jason Priestley in Calendar Girl (1993)
This movie did poorly — very poorly. The reason it doesn't rank higher among the best-worsts on this list, though, is because it's hard not to have a soft spot for Priestley. It's kind of admirable that he made a weird, period buddy-comedy instead of an action romance or some other terrible leading-man vehicle, don't you think? These days Priestley sticks mostly to race car driving and babymaking. Some of the other actors on this list could learn from his example, such as…
5. David Schwimmer in The Pallbearer (1996)
This movie ranks so high because it is just so appropriate that Schwimmer, whose face is already a little depressing, decided to make a funeral comedy as his first big post-Friends effort. When you think funerals you think both laughs and romance… right? It's unclear what Schwimmer was expecting with this one, but the public didn't bite. Nor were they there for his directorial debut, Run Fat Boy Run in 2007. Sometimes it's best to quit while you're ahead.

4. Matthew Perry in Fools Rush In (1997)
It is like a Friends reunion here! Back when DVDs first arrived on the scene, most stores had a deal where you got five free DVDs with your purchase of a player. Unfortunately you didn't get a choice of movies, so you ended up with four flops and this unbelievably bad romantic comedy in which Chandler stars opposite Selma Hayek, in a career lowpoint for the busty Latina. For bringing her down with him, Perry cracks the top five.

3. Luke Perry in 8 Seconds (1994)
Back in the '90s, Perry was ubiquitous — on the bedroom walls of teenage girls nationwide. So expectations for his big screen cross-over must have been high. But the actor turned out to be as angsty as his character on Beverly Hills 90210, exiting the series to star in bad movies like this one, a cheap biopic about rodeo legend Lane Frost. If Perry had gone Brokeback Mountain on this script he could have won an Oscar! Maybe.

2. Calista Flockhart in The Last Shot (2004)
Remember this movie? Of course you don't! No one does. Which is why it's second on this list. Flockhart captivated the nation with her antics on Ally McBeal, but fared less well on the big screen. Here, she stars opposite Alec Baldwin and Matthew Broderick in a weird action comedy about an FBI agent who tricks a director into making a movie geared toward taking down the mob. It was an inauspicious start to a movie career that, predictably enough, went nowhere.

1. Julianna Margulies in Ghost Ship (2002)
Why is this movie number one? Because it's really just that bad. And her fans expected better of Margulies, who was nominated for an Emmy literally every single year she appeared on ER! After leaving the hit show in 2000, Margulies dabbled in low-profile projects like a made-for-TV version of The Mists of Avalon for awhile, before switching tack to plunge into this ill-advised would-be blockbuster — which critics hailed alternately as "predictable" and "dumb." So congrats, Julianna: You've made it to the top of one list, at least.
Read More