Classic Ten – Ski Scenes in the Movies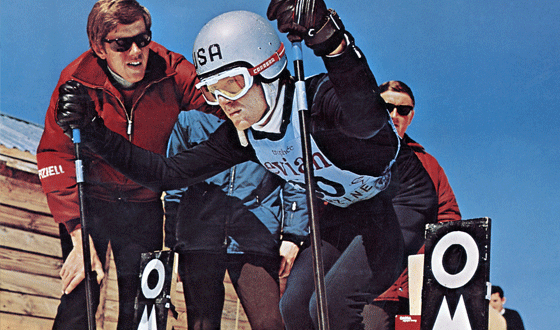 As you gear up for the schussing season, take a moment before suiting up and shuffling into the lift line to peruse our collection of greatest cinematic ski scenes: An instructor's manual of what to do — or not do — on the slopes. You won't get cold or cramped up or sniffly. We've even thrown in a couple of snowboarders, for the kids. Have we missed any? Throw snowballs at us in the comments.
10. Better Off Dead (1985)
Skiing is somewhat incidental to this black teen comedy, and that's why it's at the bottom of the list. But broken-hearted, suicidal Lane Meyer (Jon Cusack) provides a useful example of how to win a race using only one leg, and look really uncool doing it. (Another thing not to do? Snort the snow, as Booger does.) Lane is trying to win back the girlfriend who's thrown him over for the captain of the ski team, and a trip down K-12 might be just the ticket. Alas…

9. Spellbound (1945)
Dr. Anthony Edwardes (Gregory Peck) has more on his mind than where to
go for hot cocoa as he and the lovely and brilliant Dr. Constance
Peterson (Ingrid Bergman) hurtle toward a precipice in Alfred
Hitchcock's psychological thriller. Despite the egregious use of green
screen and the fact that Edwardes seems to be skiing in a wool
overcoat, this descent is nonetheless one for the books.

8. Help! (1965)
To the strains of "Ticket to Ride," The Beatles demonstrate how to do
several things on skis that aren't, strictly speaking, skiing: They
perform dance routines, practice a sort of calisthenics, and walk in
formation. Then the Fab Four hops onto silly little ski carts and zoom
around. They won't win any prizes for form, but they sure are styling
once they finally turn their tips downhill.
7. Agent Cody Banks (2003)
The junior CIA agent (Frankie Muniz) tears up the Cascade Mountains,
spewing flames out of his turbo-charged snowboard as he races to rescue
young Natalie (Hilary Duff). Along the way, he grabs tons of air,
slaloms through a forest, infiltrates enemy territory, and then clocks
a guy on a snowmobile and sets his pants on fire! For cramming so much
into one action-packed scene, this pint-sized spy is our number seven.
6. The Four Seasons (1981)
The middle-aged members of this comedy's four-couple vacation club are
not especially athletic: Clad in pom-pom caps, knickers and neon-bright
vests, they tool cautiously down a gentle incline, looking as if
they're on skis — and maybe even their feet — for the very first
time. Jack Burroughs (Alan Alda) even manages to injure himself when
he's goaded into taking a hop over a modestly-sized mogul. It's funnier
than it sounds!
5. Dumb and Dumber (1994)
Smack in the middle of our countdown is a scene that brings a touch of
the absurd to the slopes. In the comedy that introduced the world to
the Farrelly brothers, Harry Dunne (Jeff Daniels) is so delighted at
the sight of frost that he licks a metal pole and gets his tongue stuck
to a ski lift. It's hardly the first time this has happened on screen
(Flick gets triple-dog dared into it in A Christmas Story), but watching people act like idiots really never gets old.
4. Out Cold (2001)
Luke (Zach Galifianakis) fires up his merry band of pranksters for a
game of "King of the Mountain," a graceless, sloppy affair involving
copious SUI (snowboarding under the influence) and a pants-less statue.
Saplings are flattened, beer is spilled, and a number of innocent
snow-covered roofs serve as terrain. But there's something to be said
for starting the après ski action while still on the slopes, and for
that, Zach and his buddies come in fourth.

3. Hot Dog…The Movie! (1984)
Edging out the famous Chinese Downhill scene from the same movie, the
fancy boot-work in this lusty teen comedy's ski-ballet sequence nabs
the number three spot. Like an ice dancer with really, really long
skates, Harkin Banks (Patrick Houser) performs arabesques, toe loops,
and pole-assisted leaps. As a bonus, this frozen beach party may also
have set a record for most mirrored sunglasses onscreen at the same
time.

2. Downhill Racer (1969)
Did his role as the overconfident U.S. ski team star David Chappellet
inspire Robert Redford's decision to become involved with a little film
festival in Park City, Utah? It's something to consider while marveling
at the vertiginous shots of gorgeous Alpine scenery and the thrilling
climax at the Winter Olympics. With the camera often placed at
snow-level, viewers can't help but feel the speed in our silver medal
scene.
1. The Spy Who Loved Me (1977)
A ski run in the glorious Austrian Alps starts to look more like a
bobsled course, and the cheesy soundtrack goes eerily (and blissfully)
silent as Bond, James Bond (Roger Moore) soars off a cliff, Wile E.
Coyote style. Luckily, he's remembered to pack his Union Jack
parachute. (Naturally.) Nobody does seductive skiing better, which is
why the ski-pole-gun toting secret agent man takes home the gold.

Read More