Celine Dion, Kenny Chesney and Dave Matthews in Concert (on the Big Screen)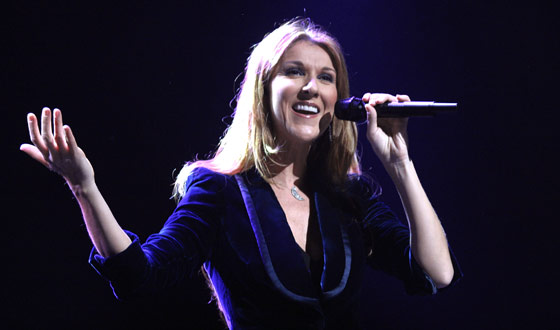 Your local movie theater — it's not just home to narrative films or documentaries anymore. With all the advances in digital projection, digital sound and high definition 3D technology, those silver screens are fast becoming prime real estate to present concerts by some of music's biggest and best acts. And as theater owners look for a way to fill seats in between big blockbuster film events, the idea of "limited engagement" concert screenings is becoming more and more popular.
Yesterday Sony Pictures released Creed Live, featuring the rock band Creed, in 142 theaters across the country for one night only. The concert was taped in September in Houston, shot on 239 high-definition cameras (a Guinness World Record), and then broadcast in HD and 5.1 Surround Sound. Creed Live was the third installment in Sony's "Digital Cinema Music Series," which previously premiered single-night broadcasts of concerts by Third Eye Blind and supergroup Chickenfoot.
This Friday, AEG Live (producers of the canceled Michael Jackson This Is It concert tour) will continue the HD in-theater concert trend with the release of Larger Than Life…in 3D Featuring the Dave Matthews Band, Ben Harper and Relentless7, and Gogol Bordello.
The concert film was shot in HD 3D at three different venues and will
show on 300-400 screens around the country for one week only.
Early next year, Sony Pictures' special programming division, The Hot Ticket, will bring Celine Dion's enormously successful 2008-2009 Taking Chances World Tour to theaters with the release of Celine: Through the Eyes of the World.
Though not shown in 3D, the concert film will be a limited engagement,
wide release documentary of her tour that spanned five continents, 25
countries, 93 cities and sold more than 3 million tickets, second only
to Madonna's Sticky & Sweet tour.
Sony has also teamed up with country superstar (and prolific touring artist) Kenny Chesney for Kenny Chesney: Summer in 3D,
which will also be a limited engagement, wide release concert film,
premiering in April 2010. The film is culled from Chesney's latest tour
— the Sun City Carnival — and was shot in five cities over six nights
using 22 fully automated 3D cameras.
Future concert movies are on the way from jam band Phish as well as
from popular music festivals including Lollapalooza, All Points West,
and Austin City Limits.
Read More