Breaking Up Is Hard to Do, But Actors Like Jim Carrey and Will Ferrell Make Divorce Funny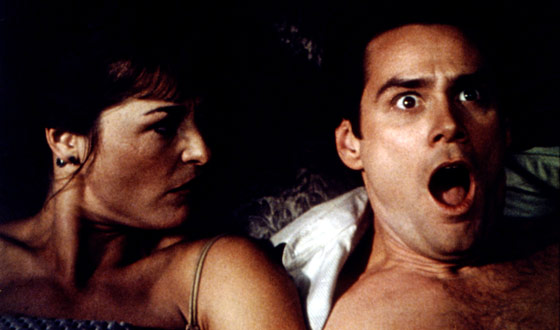 The words "it's over" are probably the least funny words you'll ever hear in a relationship. But thank goodness for the the escapist entertainment of Hollywood; you can count on folks like Jim Carrey, George Clooney and Will Ferrell to make you realize life doesn't need to get you down after a break-up. Some couples reunite, some are better off apart, and some just need a little nudge to remind them of the good times. The following movies manage to turn one of life's worst case scenarios into something you can laugh at.

A Serious Man (2009)
Larry Gopnik (Michael Stuhlbarg) is a bit of a nebbish, and it takes him quite by surprise when wife Judith (Sari Lennick) announces their divorce so she can be with her new beau Sy (Fred Melamed). However Sy's not one to let a little divorce get in the way of his warm feelings towards Larry, leading to several hilariously awkward meetings between the two. The icing on the cake? When Sy is killed in a car accident and Judith insists that Larry pay for the funeral!

Yes Man (2008)
When Carl (Jim Carrey) develops a negative attitude towards life after a nasty split from his wife, an inspirational guru convinces him to say "yes" to everything, including flying lessons, Korean language classes and a Persian dating website. This combination of extracurriculars doesn't just brighten up Carl's life, it also attracts the attention of the FBI, who investigate him for fitting the profile of a terrorist. Talk about going from bad to worse! Luckily it's a Jim Carrey movie we're talking about, so his misfortune is our gain.

Old School (2003)
As much as it sucks to get served with divorce papers and kicked out of your home, moving into a frat house run by Mitch "The Godfather" Martin (Luke Wilson) is sure to make everything seem OK. Frank (Will Ferrell) gets to participate in a wet-and-wild wrestling match, streak naked through the streets, and hang out with hot co-eds. All that wild-oat-sowing allows Frank to mature enough to hold down a steady job, and even start attracting the ladies once again. Not bad!

Sweet Home Alabama (2002)
It may be a snap to figure out the ending of this predictable movie the moment you lay eyes on adorable Jake Perry (Josh Lucas), but that doesn't take away from the entertainment value of watching him and his estranged wife (Reese Witherspoon), stumble their way back to each other as they attempt to divorce so she can remarry. After a series of romantic hijinks, drunken bar bonding, and the like, the two end up shackled together at movie's end. Literally.

Ocean's Eleven (2001)
The couple at the center of this ensemble flick have been divorced long enough for Tess Ocean (Julia Roberts) to have started dating again. Unfortunately her new boyfriend Terry (Andy Garcia) is the owner of the casino her ex-husband Danny Ocean (George Clooney) plans to rob. But as we all know, Hollywood loves a happy ending: Several double-crosses and witty bon mots later, when Tess overhears Terry give her up in exchange for his cash, she dumps him and returns to her old flame. Love always finds a way.

Liar, Liar (1997)
This one is a warning call to all deadbeat divorced dads out there who break too many promises to their kids. Your magical son just might make a wish that causes you to speak only the truth, turning your life into a living hell! That's what happens to Fletcher Reede (Jim Carrey): He insults lovers and clients, jeopardizes his career, and even beats himself up in the men's room. But don't worry, by the end of the movie he's reunited with his son, and even possibly reuniting with mom! Aw.

Mrs. Doubtfire (1993)
When his ex-wife Miranda (Sally Field) only allows limited contact with the kids, Daniel Hillard (Robin Williams) does exactly what any man would do… He reinvents himself as an elderly old lady and worms his way into the family's hearts as Mrs. Doubtfire, enduring such hilarious ordeals as fending off advances from sketchy men, setting his (fake) breasts on fire, and almost invoking the wrath of Miranda's handsome new boyfriend in a "drive-by fruiting."

Divorce American Style (1967)
When couple Richard (Dick Van Dyke) and Barbara Harmon (Debbie Reynolds) decide to call it quits after seventeen years of marriage, each starts a new life. To avoid paying alimony Richard sets out (with the help of another divorced couple) to marry his ex off to a millionaire. The bad news? Richard's plan doesn't go as planned. The good news? The ridiculousness of single life gets both Richard and Barbara to realize they didn't have it so bad to begin with.

The Parent Trap (1961 and 1998)
Nothing spells comedy gold like sisters separated at birth who discover each other's existence as pre-teens, then set out to reunite their divorced parents. Whether the twins are played by Hayley Mills or Lindsay Lohan (remember that?), the gags are the same and the laughs deliver. In both cases, a gold-digging girlfriend is foiled by a camping trip gone purposefully awry, and both movies end with parents remarrying and living happily ever after — family units intact.

Read More