Bilge Ebiri's Top Ten Movies of 2009 (With a Caveat)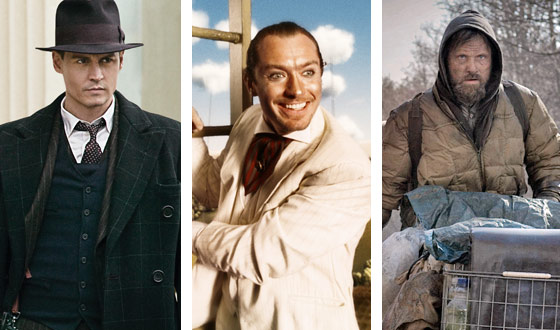 OK, first, a clarification: This is my list of the Top Ten English-Language
Fiction Films of 2009. A more international list would've included little-seen
titles like Il Divo and Three Monkeys but for AMC, I thought
it would be interesting to take a more populist approach to the "best of"
tradition. (After all, this is American Movie Classics… even if not all
the movies are American.) As for 2009, it was a year loaded with disappointment
and hope: The big-screen wonder of Avatar and the rebirth of Star
Trek helped make big-budget scifi safe to love again (no small feat after
the breathtaking failures of Transformers 2 and Terminator:
Salvation). The directorial visions of Michael Mann and Quentin Tarantino
gave electrifying new spins to classic genres and we finally got a truly great
Iraq War drama — though, for my money, the Oscar-bound Hurt Locker is
an also-ran next to The Messenger.
10. The Messenger
Many filmmakers have tackled the Iraq War in recent years, but Oren Moverman wisely chose to focus on the home front with this almost unbearably sad drama about two casualty notification officers, featuring career-best performances from Woody Harrelson and Ben Foster.
9. The Hangover
A wonderful cast and a surprisingly noir-ish missing-person plot gave a new spin to the usual guys-go-wild-in-Vegas setup. The results were hard to resist.
8. Afterschool
Antonio Campos made the most startling directorial debut of the year with this grim, quiet tale of a troubled prep school student who accidentally sees two of his classmates die.
7. Bronson
Tom Hardy, perhaps best known for playing the villain in Star Trek: Nemesis, transformed himself into a mountain of muscle to play Britain's notorious "most violent prisoner" Charlie Bronson — a man who needs a fight the way the rest of us need oxygen — in this challenging, elliptical drama.
6. Star Trek
In a year when so many other scifi franchises seemed moribund, J.J. Abrams gave Star Trek a much-needed kick in the pants — even if that meant making it more like Star Wars. We're so totally there for the sequel.
5. The Road
Curiously overlooked among the cascade of year-end awards, John Hillcoat's film version of Cormac McCarthy's powerful post-apocalyptic drama is less about the end of the world than about the responsibilities of fatherhood, with Viggo Mortensen giving the finest performance of his career.
4. Avatar
Twelve years after Titanic and nearly two decades after Terminator 2, James Cameron once again played chicken with the studio system and emerged victorious, giving us a budget-busting, eye-popping, heart-breaking spectacle that may just change the way movies are made and seen. The only thing we're dreading: All the money Hollywood will now spend trying — and failing — to top it.
3. The Imaginarium of Doctor Parnassus
Even Heath Ledger's untimely death couldn't stop Terry Gilliam's wondrously nonsensical and surprisingly personal fantasy about how the power of the imagination can remake or destroy you.
2. Inglourious Basterds
Quentin Tarantino's World War II men-on-a-mission movie turned out to be more a Western than anything else — right down to the repurposed Ennio Morricone music cues. It was also the most harrowing and hilarious film of the year, with a villain (played by Oscar-bound Christoph Waltz) who is part nightmare, part punchline.
1. Public Enemies
Some expected The Untouchables 2.0 from Michael Mann with this gangster epic about bank robber John Dillinger (Johnny Depp) and lawman Melvin Purvis (Christian Bale). What we got was another of Mann's masterfully moody meditations on Zen machismo.
Honorable Mentions: Bright Star, Drag Me to Hell, Duplicity, Extract, Goodbye Solo, Humpday, I Love You, Man, In the Loop, A Serious Man, and Zombieland
Read More